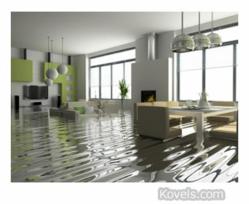 Cleveland, OH (PRWEB) November 02, 2012
Flood damage to family heirlooms and collectibles requires special and immediate attention.
Antiques expert Terry Kovel warns: "The first things to save are those in the best condition. Get them away from water and mold as fast as possible." Then follow these eight tips.
1. Mold is the first priority. If possible, move anything with mold outdoors or to the garage. Dry everything as quickly as you can.
2. Wipe wood dry as soon as possible. Then wipe wood and other hard surfaces with a rag soaked in a mixture of Borax and hot water.
3. Remove drawers from wood furniture. Let them dry to reduce sticking.
4. Place plastic under furniture legs to prevent colors bleeding from furniture to floor.
5. If the wood develops white spots or a film, rub the surface with a clean cloth soaked in a solution of half ammonia, half water.
6. Carpeting will probably have to be discarded. Oriental rugs require a specialist. Throw-rugs can be washed.
7. Look for broken ceramic and glass items to support insurance claims. Put loose pieces in a plastic bag. Mark it with the place it was found. Watch for mold growth in the bag.
8. If wooden furniture frames are valuable, save them and discard mattresses and upholstery.
Don't forget to take photos of any possible damage to help with insurance claims—and call your insurance agent. Save the things that are undamaged first, not the items that are soaked. Be sure to wear boots and rubber gloves, wash hands frequently and cover open cuts so contaminated water doesn't cause infections.
Terry Kovel, well-known columnist and author, gives information and advice on collecting. She has written a special report on dealing with a disaster, "Dealing with Disaster: How to Protect Your Collection from Theft, Fire and Natural Disasters and How to Handle a Disaster If It Strikes." She will discuss antiques and collectibles topics with accredited media. Photographs are available. Contact pr(at)kovels(dot)com.
About Kovels.com
The online website, Kovels.com, created and managed by Terry Kovel and Kim Kovel, provides collectors and researchers with up-to-date and accurate information on antiques and collectibles. Kovels' Antiques was founded in 1953 by Terry Kovel and her late husband, Ralph. Since then, Kovels' Antiques has continually published some of America's most popular books and articles about antiques, including the best-selling "Kovels' Antiques and Collectibles Price Guide," now in its 45th edition. The Kovels' website, online since 1998, and free weekly email, "Kovels Komments," give readers a bird's-eye view of the market through up-to date news, auction reports, an online Price Guide, a Marks Dictionary, readers' questions with Kovels' answers and much more.
Contact Information
Liz Lillis
216-752-2252
pr(at)kovels(dot)com