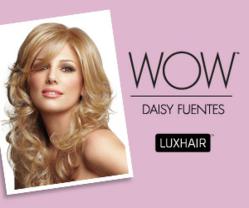 (PRWEB) November 02, 2012
Daisy Fuentes is a world famous model and international television personality, well known for both her beautiful looks and her "latin" style. With a lifetime spent in the spotlight, Daisy has learned a thing or two about what makes great hair. Her new line LUXHAIR™ WOW™ is composed of wigs, extensions and hairpieces meant to offer women simple and fast hair solutions.
The extensions and hairpiece styles include: a braided headband, clip-in bangs, a pony/fall extension and a hair wrap. The line also features several ready-to-wear wigs. The extensions and hairpieces in the collection are all made with the revolutionary Keralon™ heat-friendly synthetic fiber. The unique fiber mimics human hair, offers select styling versatility and looks and feels silky and soft. The 22" Pony Fall Extension stands out as it can be used in many different ways. The clip-in pony can be worn as a fall for volume, a ponytail for instant length; it can even be easily fashioned into a beautiful romantic updo. All of the extensions and hairpieces are quick and easy to attach, in Daisy's own words it's hair that is "glam and go." LUXHAIR™ WOW™ created by Daisy Fuentes will be available for purchase at Extensions.com.
About LUXHAIR™:
LUXHAIR™ is a hair manufacturer that has partnered with celebrity personalities. Collections within LUXHAIR™ include: WOW™ created by Daisy Fuentes, HOW™ created by Tabatha Coffey, as well as NOW™ by Sherri Shepherd. LUXHAIR™ prides itself on offering women fashion forward and easy to wear hair extensions, hairpieces, accessories and wigs. All collections within LUXHAIR™ feature the innovative Keralon™ synthetic fiber.
About Extensions.com:
Extensions.com-the hair professionals, is an industry leader in consumer friendly hair extensions and hairpieces. For over 15 years the company has led the way in the world of wearable hair and they are thrilled to be partnering with Daisy Fuentes for the launch of her line.