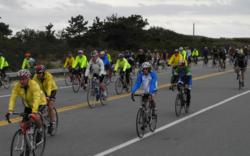 Beaumont Solar Cycling Team Member Eric Jensen powered away from the entire group with 12 miles to go and finished first out of more than 120 cyclists.
New Bedford, MA (PRWEB) November 02, 2012
Beaumont Solar Cycling, the cycling team sponsored by Beaumont Solar Company, the region's leading solar engineering, procurement and construction company (EPC), had 8 cyclists participate in the Buzzard's Bay Watershed Ride recently, raising $2400 for the Buzzards Bay Coalition and finishing in the top 3 spots for the day.
"This was our second year riding in the Watershed Ride," said Beaumont Solar Company CEO Phil Cavallo, an award-winning cyclist in the U.S. and Europe since 1975. "I was proud of our team, not only because we were one of the top contributors, but also because Beaumont's effort showed great enthusiasm for a cause that is synonymous with celebrating green communities and ecological responsibility."
The Watershed Ride encompasses a 75-mile route, which begins at Horseneck Beach in Westport, winding through farmland, coastal villages, New Bedford's waterfront, cranberry bogs and scenic back roads before ending at Quisset Harbor in Woods Hole on Cape Cod. Financial support from the ride helps the Buzzards Bay Coalition monitor water quality and advocate to stop nitrogen and eliminate toxic and sewer pollution. Donations help to protect the lands most critical for clean water and actively restore damaged natural areas such as rivers and wetlands.
"Even with the winds at 35 miles per hour at the start of the race, and a brutal headwind toward the end, Beaumont Solar Cycling Team Member Eric Jensen powered away from the entire group with 12 miles to go and finished first out of more than 120 cyclists," reported Cavallo.
Cavallo finished second in the event and Josh Altshuler finished third. Beaumont Solar Cycling members were all wearing the new team kit, which includes cycling jersey, bibshorts, wind vest and arm warmers, all displaying the Beaumont Solar team logo.
In August, Beaumont Solar Cycling sponsored a team that rode in the Pan-Mass Challenge to benefit the Dana Farber Cancer Institute. Customer Chris Parker of Clarke Corporation and Dr. James O'Connor of Falmouth were sponsored.
In July, Beaumont Solar Cycling also sent a team to the world-renowned Triple Bypass, which took place in the Colorado Rockies. The 120-mile ascent of three 10,000-plus-foot mountain passes attracted riders from around the nation and has distributed donations in excess of $900,000 to dozens of community and charitable organizations.
"It's easy for a solar company to say they are green," said Cavallo, "but we at Beaumont Solar are committed to real green initiatives. We want to give back to the community and be a part of a healthy sport that is appropriate for all ages. If we can get more people on their bikes and use this as a conduit to support local charities then we will have achieved our goal."
Cyclists who would like to be considered for a Beaumont Solar Cycling sponsorship may contact Marlene Arruda at marlene(at)beaumontsolarco(dot)com or call 508-990-1701, Ext. 201.
About Beaumont Solar Company
Beaumont Solar is one of the emerging leaders in the solar market by providing a streamlined, vertically integrated solution for customers. This philosophy allows Beaumont Solar to be at the highest quality standards and at the lowest price or lowest levelized cost of energy (LCOE). For more information, visit http://www.beaumontsolarco.com.