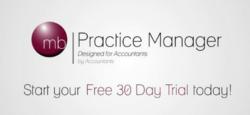 MB Practice Manager: The complete practice management software solution.
London (PRWEB UK) 2 November 2012
Improved practice efficiency, better client management and greater profitability are only some of the benefits MB Practice Manager is offering accountants throughout the UK right now. Following the continued success of their Practice Management Software, Morgan Berkeley is pleased to announce that you can now download a FREE 30 day trial from the 1st of November 2012 from the MB Practice Manager.
Morgan Berkeley's MD Pierre Leong commented; "We now have a free downloadable version of MB Practice Manager available on our website http://www.mbpracticemanager.com Due to the continued growing demand for our software, we have made it more accessible through our website. This is a no obligation, 30 day FREE trial, we believe in our product and the difference it makes to our clients. I want all accountants to experience the true benefits of MB Practice Manager if only for 30 days"
Designed for Accountants by Accountants, MB Practice Manager minimizes lost time and improves efficiency for accountants by offering a complete software solution for better practice management. Start your 30 day FREE trial today here http://www.mbpracticemanager.com
Many accountants are seeing the true benefits of MB Practice Manager by utilising the many features of this complete software solution for accountants big or small. Join the hundreds of accountants that are using this software and are happy to say;
"In a summary I am hooked and I would not be without it" PSR Enigma
"MB Practice Manager is very much the backbone of the practice" Jheelan Associates
Why not see and hear more by watching our video now http://www.mbpracticemanager.com
Find out more about MB Practice Manager by contacting us on 020 8866 7161 or email: enquiries(at)mbpracticemanager(dot)com