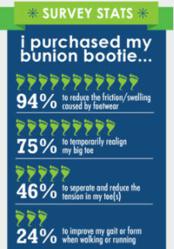 Bunion Bootie is always looking for ways to better serve and educated its customers, and updating our website is the most obvious and convenient way we can deliver that information.
Henderson, NV (PRWEB) November 06, 2012
Bunion Bootie, the leader in providing non-surgical bunion treatments to bunion sufferers all over the United States is proud to announce the unveiling of their new and improved website that is scheduled for release next month!
The new website has been designed to enhance the customer experience and includes an improved size guide, wear tips and FAQ's to help customers extend the life of their Bunion Booties, extended customer testimonials, and even statistics on bunion sufferers gathered from customer and product surveys, emails, customer letters and other feedback channels.
Bunion Bootie was established in 2011 by a small group of bunion sufferers who came together in search for an effective non-surgical treatment for bunions, a solution that they felt did not exist previously. Bunion Bootie is the perfect answer for those people who must stay on their feet for prolonged periods including office workers, shift workers, and athletes. Bunion Bootie fits in any shoe easily and comfortably and provides all day relief from the rubbing and irritation caused by bunions. Bunion irritation, if left untreated, can result in blisters, swelling, tenderness, and bursitis. At only 0.4mm thick, Bunion Booties fit comfortable in almost any shoe (including high heels and running shoes), and is made with odor and bacteria resistant materials.
Please visit their website http://www.BunionBootie.com for full details. Discounts are available for purchases of more than one (1) Bunion Bootie and those can be found on the website. For more information contact Bunion Bootie through the company's website, BunionBootie.com, or by emailing at CustomerService (at) BunionBootie (dot) com.