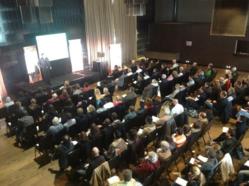 Creative real estate strategies are developed to change the process of home buying and make it simpler and easier to undertake.
(PRWEB) November 02, 2012
Australian Property Monitors says property market is still on the rebound as house prices held firm in the September quarter at 1.1 per cent. Sydney and Perth median house prices fell marginally over the quarter while Brisbane median house prices remain steady. Despite this, some Aussies – especially first homebuyers – remain wary to invest in real estate.
This is why property innovator, Rick Otton, seeks to share his risk-free creative real estate strategies throughout the country in a series of one-day training seminars. "Creative real estate strategies are developed to change the process of home buying and make it simpler and easier to undertake. The basic concept of these strategies is to remove saving for a large deposit, getting bank loans, and creating additional mortgages," Otton explained.
Creative Real Estate Strategies by Rick Otton
Otton developed these creative real estate strategies more than 30 years ago when he started doing houses. He thought of an alternative and more innovative way to buy and sell houses without risking his own money and without taking on mortgages and bank loans.
"Whenever I do houses, I always think of how to benefit the other person. And that's how I made these strategies – by putting others' benefits before mine," Otton said. These creative property investment strategies could be easily modified and adjusted to help solve people's problems and help them achieve their real estate goals
Rick Otton's strategies effectively work regardless of the economic condition. Thousands of individuals have already benefited from these creative strategies; from being able to buy a house to creating a continuous positive cashflow and gradually building real estate wealth.
Steve and Michelle Donaldson are among those who benefited from Otton's creative real estate strategies. "We bought a property without a bank loan and sold it to a couple, who for some reason are not able to get loan approval. We made $10,000 upfront deposit, $800 monthly cash flow, and backend profit of $70,000.00," the Donaldson's said.
Otton is currently conducting one-day free training events throughout the country. The purpose of these events is to inform people of a more innovative and alternative strategies to buy and sell houses without risking any of their own money and creating additional bank loans.
Find specific details of Otton's one-day training seminars at http://www.howtobuyahouseforadollar.com/register. Limited free seats are available for early reservation.
4 November – Brisbane
24 November – Melbourne
About Rick Otton
Rick Otton has spent decades making money by snapping up inexpensive real estate and putting it to work building wealth. Now, he's teaching other Aussies how to do the same.
Otton is the founder and CEO of We Buy Houses, which operates in the U.S., U.K., Australia and New Zealand putting his strategies to work every day.
Otton got his start in alternative real estate investment in 1991 and within a year acquired 76 properties. In years after, Otton made a fortune using his low-risk, high-reward strategies to inexpensively acquire real estate.
Now, Otton wants to share the wealth by sharing the wisdom, teaching Aussies how to buy and sell real estate without cutting banks and other middlemen in on the deal.
Otton has been featured in a variety of television programs and magazines, including Today Tonight, A Current Affair, Australian Property Investor and more.
You can learn more about Otton and how to invest in residential real estate without using banks at http:// http://www.rickotton.com.