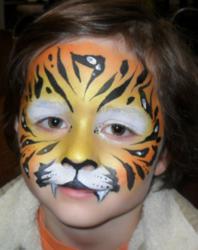 "Thank you once again for your support on Sunday the kids just looked amazing!"

Carla Buriani – Events Assistant Perfect Events
Melbourne, Victoria (PRWEB) November 17, 2012
We Love Face Painting! artists will appear in Christmas attire to entertain and amaze those in attendance at the pharmacy with face painting and balloon sculpting. The group will be on hand both Thursday, December 20 and Friday, December 21 from Noon until 2:00 PM. The Keilor Downs Quality Pharmacy is located in Shop 23 of the Keilor Downs Plaza on Taylors Road
We Love Face Painting! owner Shelley Bledsoe has struck a deal to appear at several Quality Pharmacy locations this holiday season giving the owners of the company a unique way to entertain the customers who will visit their Christmas events. Shelley founded We Love Face Painting! in 2007 and is one of the biggest advocates of this art form. She and her staff truly love the business of face painting and she often tells her clients, "We love our work because it is such a great joy to make people feel special. We love how face painting makes us feel too! Our greatest reward is feeling connected to the community, we are privileged to share in your special occasions, and to meet people from all walk of life. We love to watch the magic of art impact on peoples' lives. It is our team's sincerest desire to provide each person we paint with a feeling of joy, satisfaction and personal value in the time we spend with them."
We Love Face Painting! offers its services at corporate events, family fun days, movie day events, store openings and children's birthday parties. They specialize in temporary tattoos, adult face painting, Halloween face painting and face painting to keep the kids entertained at any function.
Those who want to learn more about this fun company and its services can visit their website at http://www.welovefacepainting.com.au or call Shelley at 0400 042 612.
ABOUT WE LOVE FACE PAINTING!
We Love Face Painting! is based in Melbourne, Victoria. The firm was established by Shelley Bledsoe in 2007. Shelley has a background in Makeup Artistry so face painting was a natural progression for her and she loves doing it! The We Love Face Painting team thoroughly loves what they do and prides themselves on their reliability, and quality work. The company's face painting designs range from popular full face to cheek art.
EVENT DETAILS
Face Painting for Quality Pharmacy
Shop 23, Keilor Downs Plaza
Taylors Road
Keilor Downs Vic 3038
December 20 & 21, 2012
Noon – 2:00 PM