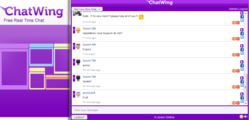 San Diego, CA (PRWEB) November 05, 2012
Chatwing Development Team is now moving up in the online arena by expanding in the Twitter zone. The company has recently launched a global chat widget capable of wide-scale discussions with many people. A single Chatwing chatroom allows thousands of Twitter users to exchange ideas and share information about specific trends. Chatwing's developers have also talked to trend setters, offering them communication leverage.
Twitter discussions can be noted from thousands to millions because there are many topics and factors associated. With this rate, many online entrepreneurs have decided to use the Twitter arena for their marketing purposes. Chatwing's free chat box can help anyone find trends and followers in Twitter. Setting up a Chatwing account is easy – the user just needs to register his website's domain and he can now design the widget that he likes.
The Chatwing chatbox is a simple website chatroom, but it can be used for different purposes. Aside from that, the Chatwing chat app can boost a website's online presence by a siginificant percentage. Chatwing app does this by transforming the website into an active chat lounge where people can relax, discuss, and share important information. Online professionals can also use Chatwing's free shout box to help their research and gather overall public opinion.
According to the Chatwing Team, there will be more development surprises to the free chat widget. These developments will be introduced in the coming months, and more users will be able to have a new online chat experience. Chatwing Team maintains a Facebook page and a series of blogs to ensure that people will get proper information regularly.
About Chatwing.com
Chatwing.com specializes in the new field of website chat. Over years, the Chatwing team has introduced live chat widget for hundreds and thousands of blogs. The Chatwing application bridges people from many parts of the world, creating global synergy through the Internet. The shout box can be installed in just seconds, and it can be used for varying purposes such as leisure and Internet marketing. It also allows a user to customize the size, color, and name of the widget. Chatwing is 100% free for everyone.