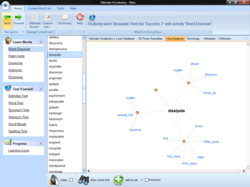 This emergent trend is not merely a whim: young people now realize how important it is to speak other languages besides English.
New York City, NY (PRWEB) November 07, 2012
As Delhi University has announced, there seems to be a trend in students opting for alternatives to English language studies. The number of students applying and studying European languages such as German, French, and Spanish has been increasing exponentially.
Mark Slater, managing director of Ultimate Vocabulary,™ commented on this new tendency: "Such shift of preference to languages other than English shows an underlying, more generalized trend for the urgency to preserve the identity of other languages that English has been dominating for decades now. This is a welcomed, positive development in global communication."
He went on, suggesting, "Of course this in no way signifies the demise of the English language. At least not until a new language has such favorable aspects, like straightforward grammar and syntax rules, and easy vocabulary building. Ultimate Vocabulary™ salutes this burgeoning trend for other language studies." It seems that people eventually came to appreciate the uniqueness and necessity for other equally beautiful and significant languages.
This emergent trend is not merely a whim: young people now realize how important it is to speak other languages besides English. One of the most cited reasons for this is the hiring potential in non-English speaking countries. Ultimate Vocabulary™ stated today that naturally an Engineering graduate that has also studied Portuguese, has more chances of being employed in that country, in contrast to one that only knows English.
Marc Slater concluded by saying, "Languages multiply one's future employment options, and taking into consideration the tight job market, languages might be one's only chance of getting hired. We wholeheartedly endorse such developments and expect to see further increase in students selecting majors in other than English language."
For more information on Ultimate Vocabulary™ and its beneficial features, please visit the software's official page http://www.ultimatevocabulary.com.
**********
About Ultimate Vocabulary™
Ultimate Vocabulary provides a proven and powerful platform, built to improve anyone's vocabulary.
The interactive self-improvement system provides more learning tools than any other program on the market, as well as more information on words.
The Ultimate Vocabulary software provides each and every user with a personal computer tutor. Providing a step-by-step guide to learning a powerful vocabulary, Ultimate Vocabulary is the learning tool everyone can benefit from.
Of course, the software is also backed by eReflect's iron-clad money back guarantee.