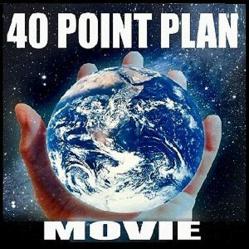 This home, which is proven to withstand the destructive powers of super storms like Sandy, is available for everyone to build at 75 percent less than the cost of building a traditional home.
Hollywood, CA (PRWEB) November 02, 2012
The devastation left in the wake of "super storm" Sandy across the Eastern Seaboard is re-igniting an urgency to build homes that can survive extreme, destructive weather events in 2013 and beyond. "40 Point Plan," a new film by Eric Williams, addresses the issue of safe housing designs in an era of increasingly destructive storms.
Since Sandy's devastating winds left a path of destruction across the Eastern Seaboard earlier this week, this aerodynamically designed home is receiving renewed attention for its ability to withstand hurricane-force winds, fire, flood, earthquakes and tsunamis, and its price tag - a fraction of the cost of building a traditional-style home.
The film features examples of the home design which can handle winds of up to 400 miles per hour, is fireproof, and by design "locked and sealed into the earth" at the foundation, meaning they cannot flood or float away, even in a tsunami. The homes are gaining popularity for their energy efficiency (costing up to 50 percent less than traditional homes to heat and cool) and unprecedented strength against natural disasters.
"Even FEMA rates this design as the safest home in the world to live in" says Williams, writer and director of "40 Point Plan. A "solutionmentary"-style movie which addresses 40 solutions to serious problems unfolding in the U.S. and 153 allied nations, "40 Point Plan" addresses common sense solutions to ending unemployment, hunger and homelessness by 2017 and beyond.
The film, rated PG, is available to the public at no cost until the two-Disc DVD is released November 19th, distributed by 40 Point Productions.
To view the film and get further information, visit the 40pointplan.com website, call 818-939-1190, or email media (at) 40pointplan (dot) com.
###