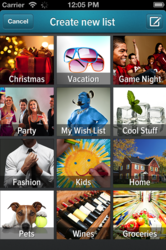 It's really easy for anyone to add gift ideas with photos from stores and magazines, or with the built-in search tool.
Helsinki, Finland (PRWEB) November 06, 2012
Silver Elephant Ltd launches Snipbase, a free service for smartphone users worldwide to quickly create and share stunning, photo-based shopping lists for any occasion. While shopping is an everyday task, the launch is timed for the holiday season. Families and friends can now better organize and have more fun together when shopping for anything from gifts to festive foods.
"Families can now share their holiday gift lists with pictures. It's really easy for anyone to add gift ideas with photos from stores and magazines, or with the built-in search tool. And having those pictures available on your smartphone makes it much more like you actually get the right gifts in the end, whether shopping online or offline", says Jani Tierala, co-founder and vice president of business development at Silver Elephant.
At launch, an iPhone app is available on the Apple App Store. Users with Google Android smartphones can use their browsers to access the service beta web edition.
Sharing Shopping Lists and Product Pictures with Friends
Snipbase combines beautiful pictures with social networking in a practical solution, helping users do their everyday shopping with friends and family. Users can keep their shopping organized by setting up multiple lists, and each list can be shared with selected Facebook friends.
Groceries are typically a family affair, but shopping for clothes, gifts or special occasions often involves a wider group of friends. Sharing product pictures for a second opinion or just a laugh can also be a lot of fun, with nearly one in five US smartphone users already doing so (comScore, http://www.comscore.com).
Faster, More Efficient Shopping with the Family
Shopping for groceries can be a tedious task with most families doing so once or twice a week. Snipbase lets users be more efficient at this, snapping photos or using the built-in search tool to add products, tapping to mark purchases and re-using their lists week after week. With real-time list sharing, any family member can add products or go to the supermarket to complete purchases.
Nine in ten American shoppers still write their shopping lists on paper, while seven in ten get help from family members in the planning process (Private Label Manufacturers Association, http://www.plma.com).
"We asked ourselves why paper lists are still so popular in this digital age and concluded that available solutions have lacked severely in simplicity, social capabilities and richness of the experience", explains Mr. Tierala about the origins of Snipbase.
About Snipbase and Silver Elephant Ltd
Snipbase is the fastest way to create and share stunning shopping lists for any occasion. An iPhone app is available on the App Store. Android smartphone users can access the service web edition, currently in beta, with their browsers.
Silver Elephant Ltd, the provider of Snipbase, is a media and advertising company based in Espoo, Finland. The company is owned by its management and Arteel Ventures, an angel investor.
Learn more at: http://snipbaseapp.com/about/