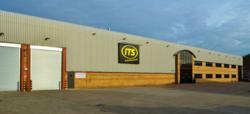 Now we are settled in our new distribution centre we will be able to serve our customers even better than before
Loughton, Essex (PRWEB UK) 5 November 2012
ITS is delighted to announce the opening of a new distribution centre in Loughton, Essex. This new warehouse will allow the company to increase its product range as well as aiding the business's ambitious growth and expansion plans.
~ Even Better Customer Service ~
Providing the best customer service possible has always been the aim of ITD, the new centre features the latest technology will help the company to monitor and increase efficiency so they can provide customers with an even better service than before.
By investing in these new systems, ITS believe that they will be able to cope with the increased volumes as they grow without the level of service dropping below their high standards.
~ Even Lower Prices ~
ITS's new warehouse means the company now has an impressive 100,000 square feet of storage space, so they can offer excellent deals by buying products in bulk. When this saving is passed onto the customer, it means that ITS can make their whole range available for an even more competitive price.
More storage space also allows ITS to introduce new lines, so the customers will have even more choice than ever before.
~ More Than Just a Distribution Centre ~
The warehouse in Essex will also serve as ITS's new headquarters and the sales, marketing, customer services, admin and accounts departments will all be placed here along with the distribution centre.
This will increase product knowledge and communication between the teams. Again, this is fantastic news for the customers because the sales team will be fully knowledgeable about every product ITS stock, so they can offer clients well-informed advice.
~ Local Employment Opportunities ~
A larger distribution centre will also allow ITS to create more local jobs both now and in the future.
The new headquarters is part of ITS's expansion plan and as the company rapidly grows over the coming months and years, it will be looking to hire and train new local talent too.