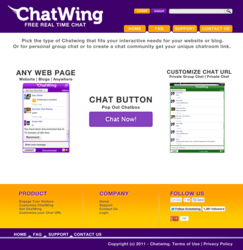 San Francisco, CA (PRWEB) November 06, 2012
Chatwing Team has recently launched an interactive chat widget for Pinterest book fans. Based on the team's research, book discussions in Pinterest are still common, along with food and gadget niches. People have different interests when it comes to books, and everyone can explore them in the Pinterest site freely. Chatwing's latest chat app can help Pinterest fans connect to each other.
One of the great additions to the Chatwing free chat widget is the background image upload option. Now, Chatwing admins will be able to upload background images and visitors will have a different online chat experience. This feature is one of the reasons why online marketers are currently relying on the Chatwing chatbox. In a way, the background image feature has helped online marketers in their campaigns.
The Chatwing team has also added vast color choices for the chat box. The colors and sizes can be edited independently, so users can design the widget they like. Chatwing's developers believe that preferences mean everything for a chat application, and users want many modification choices. Pinterest book fans can use the Chatwing chat app to exchange information about the latest books in the market. They can even discuss classics and share their opinions about trending writers.
Chatwing's developers are always open for change. They believe that a dynamic application will be able to face various online challenges. Operating on this idea, the Chatwing team is planning to create more innovations to the free shoutbox in the coming months. These innovations will be posted in Chatwing's Facebook page and series of blogs.
About Chatwing.com
Chatwing.com specializes in the new field of website chat. Over years, the Chatwing team has introduced live chat widget for hundreds and thousands of blogs. The Chatwing application bridges people from many parts of the world, creating global synergy through the Internet. The shout box can be installed in just seconds, and it can be used for varying purposes such as leisure and Internet marketing. It also allows a user to customize the size, color, and name of the widget. Chatwing is 100% free for everyone.