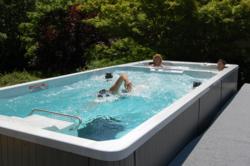 We are very excited to introduce the Endless Pools Swim Spa in Lyon. We believe our Swim Spa is unparalleled.
Lyon, France (PRWEB) November 07, 2012
Representatives from Endless Pools will travel to Lyon, France for the World Spa and Private Swimming Pool Show, taking place from November 13-16.
The company is excited to place the Endless Pool® Dual Temperature 19' Swim Spa on display. The product features a 15' exercise spa, as well as an attached 4-person therapeutic hot tub for the finest in fitness and relaxation.
"We are very excited to introduce the Endless Pools Swim Spa in Lyon," said Endless Pools founder and CEO, James Murdock. "We believe our swim spa is unparalleled, featuring the highest quality swim current on the market, in addition to a variety of unique options such as our underwater treadmill. Our pools make exercise, therapy and relaxation enjoyable for the entire family."
Building on their strong US sales, Endless Pools sees the European market as the logical next step in the company's growth. There's no better place to start than France—the world's second largest pool market.
"We've had great success in the States," said Murdock. "There is every reason to believe that we can replicate that success in Europe, and the Swim Spa is ideally suited for the smaller homes and gardens common in most European towns."
Already the industry leader in the United States, the Pennsylvania-based company is eager to make an impact in France as it seeks new dealers throughout Europe. While the company has a strong presence in the United Kingdom, Endless Pools hopes to extend and strengthen its reach by creating new relationships at the world's largest spa and private swimming pool show.
The 2012 Piscine pool show will feature 1,000 brands, and representatives and visitors from over 80 countries are expected. The team from Endless Pools is excited to leave a strong, lasting impression in hopes of making Endless Pools the top swimming machine brand in Europe.
ABOUT ENDLESS POOLS:
Endless Pools, established in 1988, has served over 18,000 customers in over 80 countries, and offers compact, customizable pools for indoor or outdoor use. With a series of six innovative products and an adjustable, revolutionary swim current, the product can be tailored for rehab, competitive training, or family fun. Low-maintenance and environmentally friendly, Endless Pools has a product to meet virtually any need.
For more information, visit http://www.endlesspools.com or contact Rob Shaeffer at 610-497-8676.