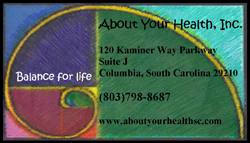 Columbia, SC (PRWEB) November 05, 2012
About Your Health, a health and wellness center located in Columbia, SC, is now offering several discounts and special promotions in appreciation of their customers. The discounts and promotions will run through the month of November. With the Thanks-Giving holiday quickly approaching, About Your Health believes it's important to remember to maintain and value health and wellness throughout the year.
Special discounts and promotions include the following:
-20% off select services (HBOT, Far Infrared Sauna, Aqua-Chi Foot bath, Laser
-10% off all Standard Process Products and SP Purification kits.
Special Packages:

Buy a New Client Visit and get a service of choice free
$30 off any full-price thermography with purchase of one sauna and one hyperbaric oxygen chamber service
If looking for gift ideas this holiday season, About Your Health encourages giving the gift of health and wellness. They're offering gift certificates for all of their services to give to family members, friends, and those special loved ones.
The staff at About Your Health is committed to health education and services designed to promote total health and wellness among all clients. Their services include hyperbaric oxygen therapy and thermography, both of which are part of their mission to help clients take control of their good health and take it to its full extent. The company's vision and mission is based on an old Irish proverb which says, "no time for your health today will result in no health for your time tomorrow."
About Your Health is BBB (Better Business Bureau) accredited and staffed by certified professionals Yvonne Lucas and Lois Bradley. Both have the credentials and experience necessary to effectively promote wellness and good health.
About the company:
About Your Health is a business located in Columbia, South Carolina. Their main focus is health education and they offer many health enhancing services to the public including Hyperbaric Oxygen Therapy and Thermography. Their core belief is the same as an age old proverb "No time for your health today, no health for your time tomorrow". They encourage everyone to take what is rightfully theirs (good health) and take it to the limit. For more information visit their website at http://www.aboutyourhealthsc.com.