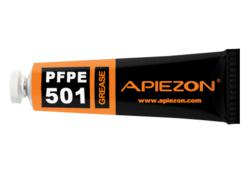 Apiezon PFPE 501 delivers high temperature lubrication, in both vacuum and non-vacuum environments. Effective into the ultra high vacuum range, inert and safe to use in oxygen rich environments, it is the perfect addition to the renowned Apiezon brand.
(PRWEB UK) 15 November 2012
M&I Materials are pleased to announce that there is a new addition to the Apiezon range of high vacuum greases. Delivering the quality and reliability synonymous with the Apiezon brand, PFPE 501 is the perfect addition to the range.
PFPE 501 is a chemically inert, high temperature and extreme pressure lubricant. With an upper operating temperature of 250°C and vapour pressure of 1.3 x 10-12 at 25°C, it is robust, versatile and can be used for sealing and lubricating under the most extreme operating conditions. This includes environments where aggressive chemicals and strong oxidising agents are regularly used.
Why Use Apiezon PFPE 501 Grease?

PFPE based
High temperature lubricant
Used in oxygen rich environments
Ultra high vacuum
Chemically inert
Extreme pressure
Wide temperature range
Benefits of Apiezon PFPE 501 Grease?

Extended equipment life
Reduced equipment downtime
Lower service costs
Life-time lubrication
Guaranteed Apiezon quality
Expert technical support
Buy Apiezon PFPE 501 and the other Apiezon High Vacuum greases directly from M&I's worldwide distribution network by visiting Distributors. For distributors who are stocking Apiezon PFPE 501 visit Distributors PFPE.
Alternatively for Customers in the UK and Europe, Apiezon PFPE 501 and the other Apiezon High Vacuum greases can be bought directly from M&I Materials Ltd by visiting APIEZON SHOP today.