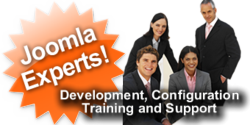 These types of events offer us a chance to interact with our peers, get inspired and take away new ideas that benefit our customers
(PRWEB) November 05, 2012
The Joomla World conference "A worldwide event for Joomla!® developers, designers and end-users" [ http://conference.joomla.org/ to be held November 16-18 in San Jose CA, will have CNP Integrations [ http://www.cnpintegrations.com top project management team and Joomla experts contributing to the extraordinary line up of Joomla! CMS professionals scheduled to present. The Joomla World Conference is the first of its kind and will attract visitors from around the world to participate in educational seminars, hands on workshops and social events crafted to inspire Joomla's global development and user community to new heights. Joomla! CMS is an award winning open source content management system and web application development platform that is used on over 2.8 % of all websites on the internet with more than 35 million downloads worldwide.
CNP Integrations has built their consulting business and core expertise around supporting this powerful suite of tools for online applications. They are active participants in the vibrant community that surrounds this innovative software movement and to help extend the framework as developers of custom extensions. CNP offers tools training and support for building Joomla based web sites, responsive mobile applications and online communities. "We are greatly honored and appreciate the ability to share information and interact with such a broad audience of Joomla users. It is such a joy to participate in this wonderful community of extremely talented professionals and to meet folks with new perspectives, unique challenges or solutions to interesting problems. These types of events offer us a chance to interact with our peers, get inspired and take away new ideas that benefit our customers." Says Christopher Nielsen, CEO and cofounder of CNP Integrations.
At the Joomla World Conference, the CNP Integrations team will contribute four unique presentations with perspectives that benefit a broad audience of developers, designers and end users.
Dr. Amy Patillo, CNP Integrations Director of Education Programs and professor and the University of MO will present on youth entrepreneur programs that CNP Integrations has co-sponsored along with the University of MO and their 4H Extension programs. This talk will explore how Joomla! CMS has inspired youth on career paths in web technologies and how CNP Integrations can be an effective training partner for implementing Joomla! CMS.
http://conference.joomla.org/speakers/sessions/session/session/46-sparking-youth-development-with-joomla-cms-and-4h.html
Christopher Nielsen, CNP Integrations CEO and Joomla project manager, will explore a case study on a 3 yr contract with the State of Washington and lessons learned for building communities with Joomla! CMS and the popular JomSocial extensions. This talk will provide useful information for planning or executing web portals using Joomla and how to build effective online communities for business, education, non-profit or government.
http://conference.joomla.org/speakers/sessions/session/session/112-building-community-sites-with-joomla-cms-case-study-mypugetsound-net.html
Jonathan Neubauer, a CNP Integrations project manager and a "get'er done" member of the Joomla community, will present a case study on enterprise level migrations from Drupal to Joomla. This case study goes through the steps used on migrating a large publishing company from Drupal to Joomla while improving security and optimizing hosting environments. The information provided will shed light on the many opportunities this unique capability of the CNP Integrations team can offer Non Profits, Government and Industry alike.
http://conference.joomla.org/speakers/sessions/session/session/32-drupal-to-joomla-a-migration-case-study.html
Joe Sonne (JoeJoomla), a CNP Integrations project manager and "blog star", will present an insightful approach to customer relationships and how to maximize your potential with better choices related to doing business online with Joomla CMS. This fun and clever presentation will take participants on a journey of several experiences from the trenches of providing effective customer service and project management.
http://conference.joomla.org/speakers/sessions/session/session/94-secrets-of-getting-an-a-joomla-reputation-and-attracting-a-clients.html
Each of the presentations by the CNP Integrations project management team will share a common thread of delivering quality solutions with the Joomla! CMS and reflect the unique culture and value proposition of working with CNP Integrations. The CNP integrations team blog will provide more information surrounding these topics before and after the November 16th -18th Joomla World Conference event: http://www.cnpintegrations.com/blog
CNP Integrations is known for delivering world class support for Joomla CMS
CNP Integrations has an engaged global team of technical and configuration experts and employs highly skilled programmers and project managers with the focus of providing the most responsive web application support services for the Joomla CMS and other compatible technologies. CNP Integrations is a business division of Creative Networks Protocol Inc., a Massachusetts based corporation. CNP Integrations offers premium technical support and hosting with a value building methodology and a proven process of project management success.