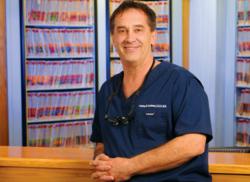 (PRWEB) November 03, 2012
Lindsay B. Eastman, DDS, MS, PA, is a Bradenton periodontist that replaces missing teeth in just one day. He works with candidates that may have lost teeth due to gum disease, tooth decay or other reasons.
Many people who are missing teeth or wear dentures have considered getting implants, but have been discouraged about the length of time it takes until the new crowns or implant supported dentures are ready to be placed. The standard dental implant procedure may take several months for the implant to heal before the abutment and crown can be installed. For those who fit the criteria, with the Teeth-in-a-Day® procedure, there is no longer a waiting period between getting the implants and getting the restorations.
People who are considering implants or those who wear dentures may be able to get this new treatment from Bradenton periodontist Dr. Lindsay B. Eastman. Dr. Eastman utilizes Noble Biocare's All-on-4™ technology to provide this type of restoration in a single visit. The complete restoration only requires four implants. The implants do not require the dentist to first do bone or gum grafting procedures, which may be required for traditional dental implants if there is not enough bone.
The four implants usually do not require incisions or suture the way traditional implants do, which means that the restorations or crowns may be placed on the same day the implants are installed. The procedure can be used for both upper and lower teeth, and is most frequently used to hold a full upper denture or lower denture permanently in place. Because the denture is permanently held in place, there is no slippage of the denture, no embarrassing clicking and it will fit the mouth properly.
People who are missing teeth but don't want to wait for the standard procedure of implant-supported dentures can opt for the Teeth-in-a-Day® procedure with its state-of-the-art All-on-4™ technology. Within a single office visit, the dental implants and the restoration can be installed and the patient can get on with his or her life. To find out if you're a candidate for this procedure, make an appointment at http://www.bradenton-periodontist.com.
Lindsay B. Eastman, DDS, MS, PA is a periodontist offering patients personalized dental care for Bradenton, FL since 1980. Dr. Eastman received his Doctor of Dental Surgery degree from Loyola University Dental School where he completed his Graduate training in Periodontics and his Masters of Science in Oral Biology. He received his Post-Graduate specialty training in Surgical Placement of Implants from Northwestern University Dental School, and completed Business Management Training from Pride Institute. He is part of one percent of dental professionals providing the most recent FDA cleared laser procedure for gum disease and periodontal treatment. To learn more about Dr. Eastman and his dental services visit his website at http://www.bradenton-periodontist.com and call (941) 792-3899.