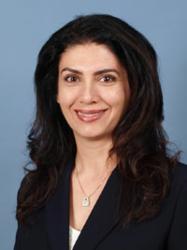 Los Angeles, CA (PRWEB) November 02, 2012
SmileCare is proud to welcome Los Angeles periodontist Fariba Matinfar, DDS, MS, to its team of specialists and general dentists. A periodontist is a dentist who specializes in replacing missing teeth with dental implants, treating periodontal (gum) disease, and improving smiles through plastic surgery procedures.
Dr. Matinfar has more than a decade of experience fixing smiles. Her specialties include treating gum disease through surgical and non-surgical methods, placing dental implants, and using gum graft surgery to cover exposed roots, crown lengthening to fix gummy smiles, and ridge augmentation to repair indentations in the gums and jawbone. Other special services include extractions, socket preservation, bone grafting, pre-prosthetic surgery, soft tissue graft, sinus lift and biopsy for oral pathology. Dr. Matinfar also is trained in both intravenous and oral sedation.
Dr. Matinfar coordinates dental care with both SmileCare and non-SmileCare general dentists. She sees patients starting at age seven at the following locations:
SmileCare Los Angeles
1440 West Manchester
Los Angeles, CA 90047
(323) 753-1141
SmileCare Carson
923 W. Carson Street
Torrance, CA 90502
(310) 533-1300
SmileCare Downey
9474 Firestone Blvd.
Downey, CA 90241
(562) 803-4224
SmileCare Mission Hills
10331 Sepulveda Blvd.
Mission Hills, CA 91345
SmileCare Montebello
1452 N. Montebello Blvd.
Montebello, CA 90640
(323) 724-9955
SmileCare Rosemead
4100 Rosemead Blvd.
Rosemead, CA 91770
(626) 575-1161
SmileCare Valley
15643 Sherman Way
Suite 300
Van Nuys, CA 91406
(818) 786-2209
SmileCare West Covina
1215 West Covina Parkway
West Covina, CA 91790
(626) 962-8911
Dr. Matinfar earned her dental degree, master's degree in oral biology and undergraduate degree from the University of California in Los Angeles. She completed her residency in periodontics at University of California, Los Angeles-affiliated hospitals and has been practicing since 1999.
Dr. Matinfar is a member of the American Academy of Periodontology, American Dental Association and California Dental Association. She is fluent in English, Hindi and Punjabi.
SmileCare accepts more than 200 types of insurance and offers SmilePlus® for patients without insurance, which can save them up to 70% on dental costs.* SmileCare also offers financing plans for patients who qualify. For more information, visit http://www.smilecare.com or call 1-800-32-SMILE.
About SmileCare and Coast Dental
Coast Dental of California Dental Group of ADAM DIASTI, with its professional associations, is one of the largest providers of general and specialty care in the United States with 183 affiliated practices operating as Coast Dental, SmileCare and Nevada Dental Associates in Florida, Georgia, California, Nevada and Texas. Coast Dental Services, Inc. is a privately-held practice management company that provides comprehensive, non-clinical business and administrative services to its affiliated practices. The company is headquartered in Tampa, Florida. For more information, visit CoastDental.com.
Disclaimers
*SmilePlus® IS NOT A REGISTERED INSURANCE PLAN. SmilePlus cannot be combined with insurance or discount dental plans. Minimum fee only. Fee may vary with complexity of case. The dentists and hygienists are employees or independent contractors of Coast Dental of California Dental Group of ADAM DIASTI, D.D.S. P.C., (Adam Diasti, DDS, Lic. 60596). CD-101467