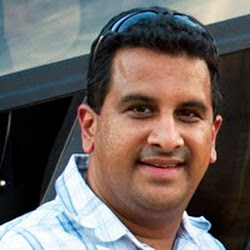 "It's a great accomplishment.... We're right there listed with Atlanta's finest designers."
Atlanta, GA (PRWEB) November 05, 2012
Two of Atlanta's premier Indian wedding decor and linens firms, Utopian Events and Elegant Chairs & Linens, will be listed on the "platinum list" in the print edition of Grace Ormonde Wedding Style, Spring 2013 - a nationally distributed magazine catering to upscale brides.
The magazine's "Platinum List " highlights wedding businesses recognized for providing the most elegant, distinct and highest quality wedding designs in the country. Both businesses, jointly owned by Atlanta wedding event designer Shushil Patel, will be listed under "Floral & Event Design" and "Linens" providers in Georgia.
It marks the first time either business will appear in the respected magazine. Editors selected the businesses after a review of Patel's event portfolio and event planning history.
"It's a great accomplishment, " Patel said. "We're right there listed with Atlanta's finest designers."
Growing Influence In Indian Wedding Decor:
The honor comes as the Atlanta businesses have begun providing services across a wider geography. Both firms have customized specialty linen and have created unique Indian wedding designs for couples as far away as California and Wyoming.
"This listing will definitely expand our reach among the more discerning clientele and the more affluent bride who is clearly buying the magazine," Patel said. "It will create a relationship."
Founded in 2004, Utopian Events is recognized across the region for providing spectacular Indian wedding decor, including custom mandaps, Indian wedding centerpieces, floral arrangements and more. Patel founded sister company Elegant Chairs & Linens in 2011 and has since grown the business into a provider of custom tablecloths, embroidered sequin overlays, Chiavari chair caps, speciality tablecloths such as Crinkle Crush, and more.
Utopian Events also has been listed in wedding directories for Wedding Wire, South Asian Bride Bride and Maharani.com.