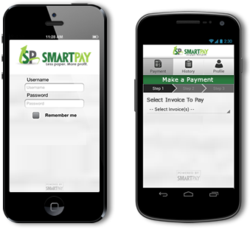 It was a logical next step to add the mobile app.
Fargo, N.D. (PRWEB) November 04, 2012
Onsharp is excited to announce their new mobile app for the company's electronic bill presentment and payment solution, SmartPay.
SmartPay is designed to save businesses time and money while increasing customer satisfaction. The addition of the SmartPay mobile app, adds convenience and a high-level of technology that customers are beginning to expect from businesses.
Customers already paying bills using SmartPay can access SmartPay features through the app. Those accessing their customer portal through the mobile app will be able to pay bills with saved accounts, create new payment accounts, view and save payment history and edit their profile information all from their mobile phones. Users will have the same level of data and information security with the mobile app as they do with the online portal.
"We are always updating and adding new features to SmartPay to improve the user experience," said Karn Jilek, Onsharp's Director of Operations. "It was a logical next step to add the mobile app." Jilek went on to say that businesses that are currently using SmartPay are able to provide the app to their customers, and those interested should call the SmartPay office or contact SmartPay online at http://www.gosmartpay.com/contact-us.
The app is available for both Android™ and Apple® mobile devices. Interested in learning more about the SmartPay mobile app? Please visit http://www.gosmartpay.com/features/mobile/.
SmartPay is a powerful, flexible, enterprise-level online billing system designed to save your business time and money. SmartPay is a Cloud Based Electronic Bill Presentment and Payment Sass Solution suitable for medium to large businesses. It allows an increase in cash flow by sending large batches of invoices and statements electronically while increasing accuracy and customer satisfaction by allowing customers to pay online easily and securely. For more information about SmartPay, please visit http://www.gosmartpay.com or call 1.866.667.4277. Twitter @_SmartPay_