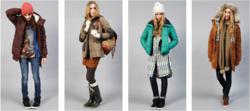 (PRWEB UK) 4 November 2012
The AW12 Womenswear range distinguishes two girls on either side of the Bench style coin. The first theme, named Wanderland, is a link to the origins of the brand - comfortable, simple and functional styles designed for modern urban living. The second theme, AWOL, defines an image focused, confident and youthful look.
Celebrating nature's imperfections and the great outdoors, Wanderland is about comfort, versatility and has a sense of adventure which is summed up well in the range of winter coats available. Military styling, multi pockets and wild craft-influenced trims feature on work-wear inspired silhouettes. Warmth has been kept in mind with increased wadding weights, quilting, chunky textures, peach finishes and fur trims. Expect laid-back, layered styling, no nonsense pieces and favourite easy wearers.
AWOL is an attention-seeking modern urban look with a wink towards 90's grunge. The collection screams attitude and features unconventional shapes, extra-long lengths, abstract volume and utility detailing.
Fashion and photography bloggers, a Nirvana exhibition in Seattle, Berlin Street art, underground parties and Melt! Festival have all played a part in inspiring the Bench design team to create a collection with a rebellious attitude. Quirky graphics take inspiration from the music the AWOL girl listens to and garments perform the roles she needs them to play, spontaneous and carefree, the essential pieces for fast paced living. Across both themes the hood has been made a focus, with new wired constructions, increased volume, fur trims, shaggy fleece linings, and quilting details featuring in hooded styles. This season's colour palette is built over two phases, the first reminiscent of autumn leaves against an urban backdrop with yellow, pumpkin orange, saturated reds and burgundy, mixed with wearable neutrals.
The second colour phase is inspired by day break on an icy but bright winter morning. Jaded colours from the night before turn to bold tones with a crisp clarity. Frost bitten evergreens and strong pine hues mingle with lighter tones and strong magenta pink and deep teal provide a contrast clash. Multi-functional folded collar/hood combinations continue through jackets to sweats with 'optional wear' ideas key to numerous pieces across the range. Signature thumbholes, ultra-high necklines and double cuff details remain a brand staple.
Jackets are toughened up with waxed finishes, heavy washed, beaten up looking canvases, brushed face finishes, reactive dye effects and marled Meltons. Premium parka jackets 'Husker' and 'Greenland' are a highlight.
Twill and brushed finishes continue in new heavier weight for bottoms and are offered with stretch for super soft skinny pants. Winter chinos and carrot-leg trousers stand out from the range. Hand knit effects, and jacquard Nordic motifs are new in the sweat shirting area and heavy wash weathered and mottled yarn effects give garments a loved, worn in feeling, as seen in the 'Bachata' and 'Wuther' styles of women's knitwear.