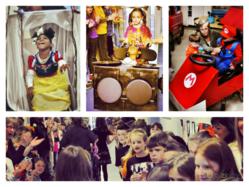 … it is about what they can do, not what they cannot do.
(PRWEB) November 02, 2012
Just over a week ago, 101 Mobility touched base with Gloria Garton, Executive Director of the Wilmington's local disAbility Resource Center wishing to share their knowledge of adaptive mobility products and knack for creative solutions with the community. This desire combined with Vanessa Bishop's innovative SDA-DL (Specially Designed Academics – Daily Living) teaching approach resulted in one of Codington Elementary's most memorable Fall celebrations.
Vanessa says of her students, "… it is about what they can do, not what they cannot do."
The children in Ms.Bishop's class are diagnosed with various developmental delays, medical conditions and physical disabilities. SDA-DL classes differ from standard classrooms in that Ms. Bishop along with Peer Educators, Elaine Rogers and Sheila Yokeley must make the curriculum adaptable for each of the students' unique needs by providing them with choices. For one blind student required to learn colors, Ms. Bishop utilized smelly markers for him to match to the color she would name.
All of the children are non-verbal but their bubbly expressions speak volumes. When our team initially met with the class to talk about their costumes, Mrs.Bishop held up a collage of costumes for the children to choose from. Five year old Jordan could not take his eyes off of the Disc Jockey. From that moment, "DJ Jazzy Jordan" was born.
On Halloween, we returned to Codington Elementary with fully decorated wheelchair and adaptive stroller costumes in tow. Costumes included Snow White in her Enchanted Forest, a glammed-up Diva in her blazing pink limo, a mustached-Mario in his speedy red Kart, the bravest Firefighter in town – styling in his "Ladder 101" Fire truck in addition to two glittering Fairy Princesses. The pure delight expressed through huge smiles and shrieks of excitement quickly become contagious as the entire student body gathered in the hall to cheer Ms.Bishop's class on as they were escorted by several student helpers. 'Oooohs' and 'ahhhs' were in abundance as were feelings of total support and fellowship.
Many of the children in Mrs.Bishop's class would not have the opportunity for Halloween celebration of this magnitude without 101 Mobility's assistance and time. Each costume was so great and detailed in size that they could not fit into a standard car or bus. Following the Halloween celebration, 101 Mobility staff volunteered their time to follow behind the SDA-DL bus. At each stop, they showed parents how to properly secure costumes to their child's wheelchair or adaptive stroller for trick-or-treating later that night! 101 Mobility's Marketing Director, Joel Brenner, described working with the class, "It was a humbling and exciting experience – the kids became attached to us very quickly. I'm glowing with pride to be a part of something so great."
Award-winning Principal Budd Dingwall hopes that publicizing the parade will bring empathy and understanding to the challenges that these amazingly courageous students face on a daily basis. It is certain that society's attitudes towards those living with disabilities are changing for the better. Prior to 1975, students could be denied a public education based on disability. Recently under the No Child Left Behind Act, SDA-DL classes now follow a curriculum aimed to help students with disabilities pass standardized testing each year. Ms. Bishop and Principal Dingwall agree that the program is largely successful due to an outpouring of support from the local community. Support from local businesses like 101 Mobility also make events like the Halloween Parade a possibility.