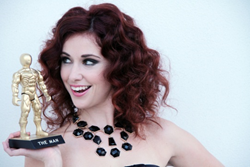 We were looking for a dating format that was not only fun and sexy, but a show that has an actual takeaway for our viewers
Los Angeles, CA (PRWEB) November 02, 2012
So many guys think they're The Man when it comes to attracting women - now Playboy TV is giving them a chance to prove it.
Playboy TV is ramping up for the premiere of the enticingly provocative reality dating show: The Man, where self-proclaimed "Casanovas" who are convinced they are God's gift to even the most insatiable women, are put to the real test to prove that they, indeed, should be crowned, 'The Man'.
Hosted by stunning American model and former PlayStation TV Host, Meredith Molinari, and evaluated by two beautiful female judges, the 10 half-hour episodes follow four men as they compete through three stimulating rounds of sexually explicit challenges, battling it out, to be the last man standing.
"Playboy TV has always been at the cutting edge of sexual exploration," says Wendy Miller, Vice President of Development. "We were looking for a dating format that was not only fun and sexy, but a show that has an actual takeaway for our viewers. There's a reason some guys always do well with women and, when our viewers watch The Man, they're going to see first-hand the simple things they can do to attract a woman, and what moves every guy should avoid."
Filled with outlandish comments, brutally honest critiques, and tons of laugh-out -loud moments, The Man is sure make a lasting impression – It's time to man up your television!
-30-
NOTE TO EDITORS: More info available at Playboytv.com/category/shows/the-man/
Follow The Man on Facebook at: Facebook.com/PlayboyTV
and Twitter at #theman
For more information contact:
Kate Miller, Playboy Plus Public Relations
kate.miller(at)playboyplus(dot)com
1 323 276 4000 ext. 4306
1 514 781 9940
About Playboy TV:
First launched in 1982, Playboy TV helped pioneer the premium channel TV market and is now available in more than 66 million homes nationwide and more than 70 countries throughout Europe, Latin America and Asia. Through subscription and on-demand programming, Playboy TV offers viewers a variety of genres including reality series, international travelogues and behind-the scenes glimpses into the world of Playboy, all with the fun and sensual tone for which Playboy is known. For more information, visit PlayboyTV.com.
About the Host:
MEREDITH MOLINARI
Playboy TV is thrilled to welcome Meredith Molinari as the host for our new reality dating show, The Man, where two beautiful judges decide which of four men will be crowned The Man. Her smart, sexy energy brings a new level of fun to a show already packed with excitement. Fans will recognize her from hosting all three seasons of the original reality series, The Tester by 51 Minds airing on The PlayStation Network and entertainment spots for MSNnow.