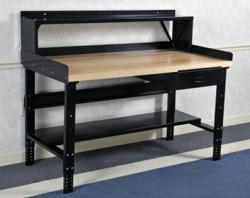 Black is The New Gray! Customers Love Our Black Tie Work Benches
Dallas, TX (PRWEB) November 03, 2012
A Plus Warehouse is always thinking about the next product line that customers will love. The most recent addition to the product stable at A Plus Warehouse is the Black Tie Work Bench line. Black Tie work benches are all black. According to Ed Stairman, " In the industrial arena , Black is the new gray. Customers will be crazy about our Black Work Benches"
Mr. Stairman is onto something in his statement. Work areas usually utilize storage and handling equipment in battleship gray or perhaps green in the case of pallet racks. The color black makes a work space more inviting and attractive. It has been shown that workers that are pleased with their environment are more productive than others , so a small investment in attractive work benches can be a great idea.
Black Tie workbenches are exceptionally easy to order. A Plus Warehouse shows a bench fully appliance with back and end stops, a riser , a lower shelf and a drawer as well. All a customer need to do is decide the top size and composition and order by model number. Other dealers make customers order by individual components. Customers can leave that to the sales staff. For those customers that prefer basic work benches or only some components, A Plus Warehouse offers Black Tie work benches in the basic design with accessories a la carte as well.
One thing customers realize about A Plus Warehouse's black work benches is that they are quite inexpensive. This line offers great value as it is an imported line. For customers that need a made in USA item , the Black Tie is not the product of choice. Customers should not fret , as A Plus Warehouse's ever popular BigBlue line of work benches is available in a whole rainbow of colors including black! Customers that prefer made in America should simply look at the A Plus Warehouse BigBlue line. Value focused customers will appreciate the Black Tie Bench price point as well as overall quality.
There are three tops available in the Black Tie line. These tops are 12 Gauge Steel , Shop Top and Hardwood. The wooden tops are all 1 ¾ inches thick. All the work bench tops are quite sturdy. The Black Tie work bench can be used in industrial and manufacturing work areas easily.
A Plus Warehouse is a nationwide materials handling dealer that specializes in work benches. A Plus Warehouse strongly suggests customers consider Black Tie work benches for durability, quality, and price.