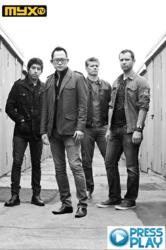 Myx TV wants to make sure that Asian American artists get the recognition they deserve.
Redwood City, CA (PRWEB) November 02, 2012
Myx TV's Press Play's proudly launches its premiere episode nationwide today with Southern California artist Johnny Hi-Fi. Showcasing the best of independent music artists around the United States, the network will be the first to broadcast dozens of their music and videos. Catch Press Play tonight on Myx TV at 9/8 central.
With ten years of making music, seven albums produced, and numerous tours in North America and Asia, Johnny Hi-Fi's alternative rock sound has already captured its fans worldwide. Already hot in the independent music scene, their House-of-Blues America Tour and recognition on MTV Chi's top 10 video charts landed them the coveted "Artist of the Month" spot on Billboard Magazine's Underground series. Their single "Politician" headlines tonight's episode of Press Play.
Johnny Hi-Fi has gone on three Asia tours, covering Japan, China, Hong Kong, and Taiwan. They mark a performance for an audience of 20,000 at the 2006 Beijing Rock Festival in China as a highlight of their career.
Lead singer, Eric Hsu, grew up to jazz greats like Frank Sinatra, Tony Bennett, Billie Holiday, and Ella Fitzgerald. His love for music traveled with him from east coast to west and the persistence to make music brought them to their increasing stardom today. Some of their other audience favorites and chart toppers include "When You Go" and "I Should Wait."
They say the story makes the man. "We're still fighting stereotypes every single day – not just outside in our communities, but within," said Eric Hsu, lead singer and guitarist for Johnny Hi-Fi. "You've got one life to live – be your authentic self." And true to their sound they've stayed.
Today, Johnny Hi-Fi moves from the independent music scene to a nationally-broadcast channel and into 10 million households. "Myx TV wants to make sure that Asian American artists get the recognition they deserve," said Johnny Hi-Fi. "They're running a very tight ship."
Also, catch original music videos by Far*Out, Kato Dox, Mango Kingz, The Nghiems and CryWolffs!Violin on today's first episode of Press Play on Myx TV - where you decide who gets played! For local cable listings in the city where you live, visit http://www.myx.tv.
##
ABOUT Myx TV®:
Myx TV is the premier Asian American entertainment and lifestyle cable network in the United States. Dedicated to airing the best in entertainment, Myx TV's programming is a unique combination of original and syndicated shows, including magazine talk shows, interactive music video countdowns, independent film and Asian cinema, and animation, airing 24/7 in English. Broadcast in over 10 million households across the country it provides a platform for Asian Americans on mainstream television and is also represented on its official website by a community of bloggers from coast-to-coast. To find Myx TV in your area and for exclusive content online, visit http://www.myx.tv.