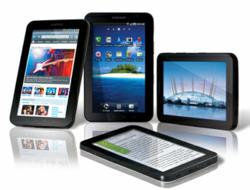 (PRWEB UK) 6 November 2012
Protect Your Bubble's list of best tablets for the Holiday season. Tablets should be high on the list of Christmas gifts for the coming holiday season, so Protect Your Bubble, tablet insurance provider, has a list of the top 6 best tablets. In no particular order, here is the list.
1. Apple iPad – The latest incarnation the 4th Generation iPad, features 4G LTE compatibility, improved WiFi and an upgrade to the A6X processor. Like all its predecessors it sold out in lighting time so it's worth consider the 3rd-gen iPad or even the 2nd–gen iPad, these are still great machines and can be picked for a lesser price than the latest model. Prices start from around £250 upwards.
2. Apple iPad Mini – As Apple say "every inch an iPad" just smaller with a 7.9in display. The suspected goal is to compete with the, Nexus 7and the Fire. A sell out at pre-order and launch, if you can get your hands on one it'll set you back from £269.
3. Samsung Galaxy 10.1- (Prices from around £200) – Thin and light, this Android 3.1 Honeycomb powered tablet certainly gets the job done. The Flash player takes a beating on sites with heavy content.
4. Asus Eee Pad Transformer (From around £200) – One of the fastest Android devices, this pad can dock into a full keyboard to operate more like a laptop, perfect for university coursework and writers. Wi-Fi only, there is no broadband connection with this tablet.
5. Kindle Fire HD 7" (£169) – A 1.2 GHz dual core processor and a 1280x800 display means this tablet is great for videos. Don't plan on taking videos, only watch them because there is no video recording. The lack of a GPS is secondary to no video.
6. Galaxy Tab 7.0 (Prices from around £200) – Android 2.2 powered, this tablet is slightly smaller than the 10.1 tablet. No HD video for recording videos, however.
Regardless of the tablet, purchasing gadget insurance is a good idea. Protect Your Bubble is gadget insurance against theft, damage and loss. Best of all, it comes at a price even Scrooge would be willing to pay for. Visit Protect your bubble for additional information and an instant quote.
About Protect your bubble UK
Backed by a Fortune 500 company, Protect your bubble is the UK's largest specialist gadget insurer that also offers a wide range of insurance products including car insurance, car hire excess insurance, home insurance and pet insurance; all at wallet-friendly prices.
Related Links:
Tablet Insurance - uk.protectyourbubble.com/tablet-insurance.html
Gadget Insurance - uk.protectyourbubble.com/gadget-insurance/
iPad Insurance - uk.protectyourbubble.com/ipad-insurance.html
Find Us On:
Facebook: facebook.com/ProtectYourBubble
Twitter: twitter.com/protectyrbubble
YouTube: youtube.com/user/protectyourbubble