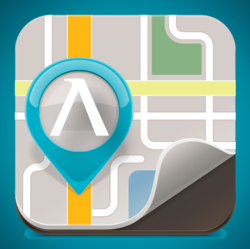 Wayfinder...is like Google Maps but for your workplace," said Bob Clements, senior vice president, Axsium Group.
Las Vegas (PRWEB) November 12, 2012
Axsium Group today announced that it has developed a new workforce application for the Kronos InTouch™ time clock available via the Kronos InTouch App Platform, the industry's first and only application platform dedicated to improving the productivity of the frontline workforce.
News Facts

The new app, called Wayfinder, helps employees easily find their way to their work location, using floor plan maps and layouts available on the InTouch device. Employees, especially those within a large, multi-building complex or who need to report to different locations within their work day or work week, can use the Wayfinder application to quickly pinpoint a designated work station or identify the location of their manager or team.
With the InTouch App Platform, Kronos partners, customers, and third-party developers easily create and share unique workforce applications for the award-winning InTouch time clock, which uses a touch screen, graphical interface, and cloud-ready architecture to deliver an unprecedented level of personalization.
Kronos offers an InTouch software developer kit to allow developers to write their own workforce applications in the device's web browser interface.
Supporting Quotes

Bob Clements, senior vice president, Axsium Group
"Wayfinder is an easy-to-use application that helps employees visually find their work location, team members or supervisors. It's like Google Maps but for your workplace. The app empowers employees with maps and floor plans to easily navigate their work day, improving their efficiency and adding another element of self-service to their Kronos system."

Bill Bartow, vice president, global product management, Kronos
"The Wayfinder app by Axsium Group is a great example of what happens when you open up a platform for users to contribute to the usefulness of a product. This is a clever and valuable tool that we believe many organizations will benefit from. We look forward to future innovation from the 'InTouch faithful' fan base – the sky is the limit."
About Axsium Group
Axsium Group, a division of Knightsbridge Human Capital Solutions, is the leading workforce management consultancy. With a singular focus on workforce management, our clients gain access to trusted business advisors, industrial engineers, and technology experts with unmatched experience. Axsium Group has delivered world-class workforce management solutions for clients such as Charming Charlie's, Costco, La-Z-Boy, St. Joseph Health Systems, Sainsbury and RockTenn.