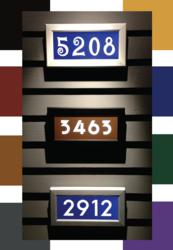 If they can't find you, they can't help you
Seattle, Washington (PRWEB) November 04, 2012
The weatherproof design enables customers to install their lighted street address in locations closer to the street - in a garden, on a gate or post, or on a detached garage - where emergency services, visitors, or delivery services can see the address more easily at night.
Address LED lighted street address signs are available exclusively online. The patent-pending design is customizable - three frame colors, ten fonts, and eight background colors to choose from. The low voltage (12 volts) device is sold with a UL listed transformer to connect to indoor household power. The product can also be directly connected to new or existing low voltage landscape lighting systems (12 volt only).
As daylight savings time ends, darkness gains a foothold during the daylight hours. A lighted address will improve visibility day and night - for courier services, friends, and family.
Homeowners will appreciate the high quality of the weatherproof lighted address sign, as well as the variety of design options. The LED light source is shockproof, solid state technology combining long-lasting performance (50,000 hours) with low power consumption (approx. 3 watts). There are no bulbs to change or burn out.
Address LED signs are sold with a 1 year warranty. The product is designed and marketed by Yachtstyle LLC of Seattle.