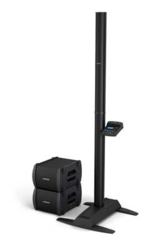 "It's [Bose L1 System] awesome… Big rooms, little rooms, easy to set up, quick to break down. It really works for me—big time."
-Charlie Farren
Oakland, NJ (PRWEB) November 13, 2012
With the holidays fast approaching American Musical Supply and Bose® want to help musicians hold onto their hard-earned cash and still be able to own a premium quality Bose L1® PA system. That's why from now through December 31, 2012 AMS is offering instant rebates on select Bose L1 portable sound systems and gear.
---------------------------------------------------------------
Clip of Rock musician Charlie Farren (THE JOE PERRY PROJECT, FARRENHEIT) raving about the simplicity and sound capabilities of the Bose L1® Portable PA Systems. | Charlie Farren on Bose L1
---------------------------------------------------------------
Many musicians may find that although they prefer the sound quality of Bose audio equipment, it can be difficult to afford these high-end, state-of-the-art products. Starting November 1st Bose and AMS are helping to make the gift of Bose-quality sound more attainable with instant rebates on the following systems and gear: the L1® Compact, L1® Model II, T1 ToneMatch® audio engine, and/or B1 bass modules. The rebates are substantial—equal to 10% off the original sale price. Not included in these rebates are the L1® Model 1S System and B2 Bass Modules. This opportunity ends on the 31st of December.
An example of the new rebates would be:
Regular Price of Bose L1 Compact = $999.00
New Price of Bose L1 Compact with Rebates = $899.00
Bose systems and gear have long been considered some of the best money can buy. The clear and even sound is able to project almost 180 degrees out from the speakers to ensure quality sound delivery to every corner of a venue. These extremely versatile PA systems allow a musician to play anywhere from small rooms to stadiums, and are lightweight for easy transportation. AMS sees the importance of making professional level gear affordable for everyone and encourages anyone interested in a Bose L1 System not to miss out on this limited time rebate incentive. For more information on the instant rebate being offered and full details on the products included please visit the Bose L1 systems page at American Musical Supply before the December 31st deadline.
###
Located in Oakland, New Jersey, American Musical Supply is a leading online merchant of professional and affordable musical equipment and supplies including guitars, amplifiers, live sound, DJ gear and more. AMS offers award-winning customer service and the American Musical Supply website has also been ranked in Internet Retailer's top 500 e-retailing businesses.