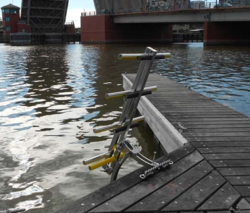 "The positive reaction I have gotten about the Penguin Ice Ladder is overwhelming," says Smith, owner of Weeb Enterprises, LLC. "I never thought that an idea I came up with and built in my garage could have such a positive impact on the diving community."
McHenry, IL (PRWEB) November 08, 2012
Time is of the essence during a water rescue operation. We saw that when Hurricane Sandy pummeled the Bahamas and East Coast of the United States. People of all ages -- and pets, too -- were helped out of the water by rescue personnel who did a remarkable job while putting their own lives on the line.
The victims depended on the skills and quickness of rescue divers who could've been aided by the innovative Penguin Ice Ladder. The easy-to-use rescue safety tool keeps your divers and support personnel safe and healthy whether it's during an actual fast-paced incident or a rescue training exercise.
The lightweight and easy-to-use Penguin Ice Ladder is the creation of McHenry Township Fire Protection District Firefighter/EMT Chris Smith of Illinois, and it reduces risk of injury to rescuers. Smith has dragged divers wearing heavy gear while on slippery ice and been dragged during dives himself -- neither an easy task. The Penguin Ice Ladder simplifies things while cutting down on sprains and strains, which according to statistics, amount to almost 50 percent of firefighter injuries.
"After going on countless dives over the past 10 years, it was obvious something needed to change," Chris says. "The Penguin Ice Ladder is that something…"
The Penguin Ice Ladder -- the world's first water rescue safety ladder -- provides an efficient and safer way to carry out an hurricane rescue operation on pier, ice and boat. It takes only five minutes to set up the ladder and the same amount of time to dismantle it.
The versatile Penguin Ice Ladder is a helpful rescue device whether its a pier or dock operation in New York or on a boat in Florida.
The Stainless Steel ice ladder is such a simple tool that it enables a fully suited diver to climb out of the ice hole with no assistance. This eliminates the need for extra support staff and excessive wear and tear on the diver and gear. Simply put, the Penguin Ice Ladder has changed the way ice dive operations are performed. Watch the short video on how the Penguin Ice Ladder works and how divers exit the water with zero assistance.
"The positive reaction I have gotten about the Penguin Ice Ladder is overwhelming," says Smith, owner of Weeb Enterprises, LLC. "I never thought that an idea I came up with and built in my garage could have such a positive impact on the diving community."
There is very little care needed to maintain the Penguin Ice Ladder for many years to come. Just rinse it off with fresh water and it's is ready for its next deployment. What's more, over the life of the ladder the cost is just pennies a day!