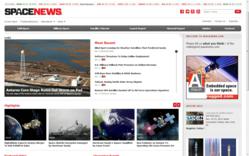 WASHINGTON, DC (PRWEB) November 05, 2012
SpaceNews, the leading information source for the space and satellite industry, is pleased to announce the redesign and launch of their website, http://www.spacenews.com.
The new website reflects the newspaper's recognition of the importance of the Web as an integral part of its overall news and information delivery operation. It is intended as a one-stop shop for space and satellite industry professionals, every bit as important as the weekly edition of SpaceNews that has served as the space industry's newspaper of record for more than 20 years.
"We are all very excited about the new SpaceNews.com. It uses state-of-the-art technology to make accessing our market-leading content easier and in ways that will be even more meaningful to the space and satellite community," said Paul McPherson, vice president and general manager. "One of the new functionalities is that it is very mobile friendly. Whether on a computer, tablet or a smartphone the site will automatically configure for the optimal view, allowing for an even deeper level of engagement between our community and our content."
Other features of the redesign include dedicated section home pages where users can easily get the latest news in their particular area of greatest interest and a more functional archive system. PDF versions of print editions are available and a calendar will keep users up to date on conferences and other events of interest to the space and satellite industry worldwide.
Going forward, SpaceNews.com will continue to evolve by adding more features as our community needs.
About SpaceNews®
Founded in 1989 and published 49 times a year and daily at http://www.spacenews.com, SpaceNews is the bible of the space and satellite industry, giving readers news and information they require and marketers a venue to speak to true decision makers in the industry. It counts among its 45,000 readers in 50 countries and 75,000 unique monthly visitors a literal who's who of key decision makers in the $100 billion space business. SpaceNews is available by subscription for $209 per year.