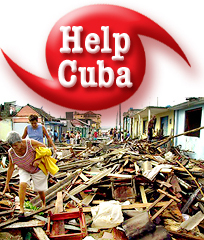 We hope the scores of new tour operators granted a special concession known as the people-to-people license by President Obama will give generously.
Blaine, WA (PRWEB) November 02, 2012
Cuba Education Tours, North America's premier cultural and educational tour operator has donated $10,000 to assist rebuilding efforts in towns and cities in eastern Cuba. The company appeals to its travel industry colleagues to match or exceed its donation, and urges individuals to help within their means.
Sandy, a category 2 hurricane, hit southeastern Cuba on the morning of October 25 with category 5 impacts. The result was catastrophic damage to housing, economic activity, and education and health facilities according to Cuba government and private sources. Roof collapses, toppling trees and wind-blown debris killed eleven people, including a 4-month-old boy.
More than 180,000 homes were damaged by hurricane Sandy, 43,426 lost roofs and 15,400 were wiped out. Thousands remain without shelter; a historically unheard of condition in Cuba. Power, water, gas and communications continue to be irregular over large sections of eastern Cuba.
Islanders are urged to boil drinking water to prevent water borne disease, but this is difficult because of loss of infrastructure and domestic appliances and services. Local authorities are distributing chlorine to sterilize water and have prioritized electrical service for strategic use by hospitals, schools and bakeries.
President Castro said Cuba's second largest city, Santiago, looked like it had been bombed.
"It will take years to recover from this calamity," says Santiago resident Román Fernandez González. "My family house survived with moderate damage, but many of my neighbors lost everything."
Anayansi Himely, a Havana television production coordinator told us, "A lot of my friends in the eastern provinces not only lost their homes, but their shops, workplaces, crops and farm animals – their livelihoods. Their future is bleak. The government is doing everything possible to provide emergency aid, but its resources are limited because the U.S. embargo of the island blocks entry of construction supplies and confiscates funds to the island transacted in U.S. dollars."
Cuba Education Tours challenges its travel industry colleagues to give generously.
"We hope the scores of new tour operators granted a special concession known as the people-to-people license by President Obama will give generously," says Marcel Hatch, president of Cuba Education Tours. "It's the right thing to do for travel agencies whose businesses are based upon the well being of Cuba and its people – especially in their time of great need."
Venezuela, China, Colombia and other poor Latin American countries have pledged and dispatched assistance.
"We are prepared to give more," says Cuba Education Tours vice-president Leonardo Hechavarría, who grew up in Cauto Cristo in the eastern province of Granma. "My family and neighbors are suffering enormously. I am going crazy because I am not able to be with them right now to help out. I am glad we can draw upon financial reserves to help ease their burden."
Hechavarría points out, "The reason Americans go to Cuba is to meet the people and witness their culture and heritage. I want to play a small part in rebuilding my country and urge everyone else to do so."
Cuba Education Tours is working with U.S. and Canadian non-profit organizations to provide opportunities for Americans to donate to rebuild eastern Cuba and get emergency dollars to the island for medical and shelter needs. Americans and Canadian who donate will be given a tax credit receipt.
Please see Cuba Education Tours website for hurricane Sandy relief at: CubaEducationTours.com/sandy.php
The website provides ways for Americans and Canadians to assist their sisters and brothers in Cuba.
Pedro Gomez Vazquez, a travel advisor with Cuba Education Tours says, "I work hard everyday to help Americans go see my country. Everyone I talk to is expressing concern about the horrible destruction caused by Hurricane Sandy. They want to help."
Cuba Education Tours ensures safe, legal travel on tours departing every week. Participants enjoy the services of a full-time Cuban guide together with a dedicated coach chauffeur. Its island staff is fluent in English and well versed in history, music and culture. They are eager to answer all questions candidly.
About Cuba Education Tours: Established in 1997, Cuba Education Tours has helped thousands of North Americans have an authentic Cuba experience. Their varied and economical tour packages are available for individuals, schools, businesses and religious and community groups. The organization's experienced Cuban, American and Canadian staff is committed to ensuring an enjoyable, educational and hassle-free travel experience for each and every participant. Cuba Education Tours is recognized on the island as the foremost North American organization promoting friendship and understanding.