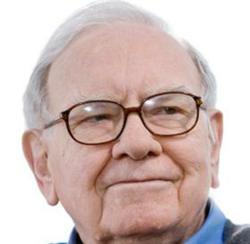 I am confident that these partners will deliver value to the residential real estate industry, and I am pleased to have Berkshire Hathaway be a part of the brand.
Dallas, Texas (PRWEB) November 03, 2012
Warren Buffett's Berkshire Hathaway announced Tuesday that its partnership with Brookfield Asset Management will create a new franchise real estate brand, Berkshire Hathaway HomeServices. As the housing market continues its recovery nationwide, real estate professionals are optimistic that the timing is right for the purchase of the franchise network by Berkshire Hathaway.
"We have significant inventory shortage across the country and prices have fallen," HomeServices Chief Executive Officer Ron Peltier said in a phone interview with Bloomberg Businessweek. "When you add the pieces up together with low interest rates, we see a housing market that will continue to improve."
Berkshire Hathaway HomeServices will be based in Irvine, Calif., and will be managed in part by a team of Prudential Real Estate executives; the integration of Prudential Real Estate management into the new firm should alleviate growing pains that may result from the transition.
Buffett is optimistic about the future of Berkshire Hathaway HomeServices, and said he's eager to see it prosper with the help of the Berkshire's name and financial backing. "I am confident that these partners will deliver value to the residential real estate industry, and I am pleased to have Berkshire Hathaway be a part of the brand," Buffett said in a statement.
The acquisition comes at a fortuitous time, especially as the housing market is showing strong signs of recovery. Housing inventory is down nationwide, and home prices are stabilizing in major metropolitan areas. As consumers return to the market with wary optimism, real estate experts believe that the timing is perfect for delivering a new brand to the public.
"I'm excited to see significant signs of improvement in the Texas real estate market, and look forward to promising changes in the future," said Rick Wylie, President at Prudential Texas Properties.
Prudential Texas Properties reported that in September 2012, the number of active listings was down 31 percent from a year earlier, while the median listing price for Dallas homes increased to more than $250,000. The average number of days Dallas home listings stayed on the market is down by 15 percent, and those decreased number of days on the market may signal a positive trend in the Dallas real estate inventory turnover rate.
"Positive signs of growth and stability in the Texas real estate market are encouraging consumer confidence," Wylie said.
The Real Estate Center recently revealed that Texas real estate wealth has significantly contributed to Texas' prosperity in the wake of the recession. In 2011, Texas' real estate wealth for single-family residences alone was valued at $945.1 billion, up nearly 200 percent from $338.3 billion in 1997.
Texas real estate is also a significant source of revenue for other industries within the state. According to the Real Estate Center, every $1 million of Texas real estate revenue generates more than $500,000 in revenue elsewhere in the state economy, 5.2 real estate jobs, and five jobs in other industries.