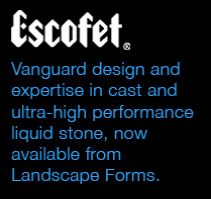 Kalamazoo, MI (PRWEB) November 06, 2012
Landscape Forms has partnered with Escofet, a Barcelona-based company known for making cast stone site elements that are avant-garde and modern, to be the sole representative of the company in Canada and the United States.
Escofet was created in 1886 and has been building their reputation since then. The company, known for their excellent research skills, innovative material invention and industrial production, offers an array of site elements that are created by skilled architects and designers. Landscape Forms product offerings from Escofet include a variety of seating solutions and decorative pieces that feature ergonomic designs and interesting geometric elements that fit in well in urban settings.
Some of the products offered include Fortunato, a cast stone bench. This bench features rotund geometry that resembles a rock. It can be rectangular in shape, or is also available as a small cube. Both designs are ergonomic and have the option of adding long and short rock backrests. Fortunato is one bench among several other options. Silla, another seating solution, is a Z-shaped chair built using reinforced cast stone. Again, this is one chair design. There are several other options available. There are also several decorative pieces being offered as well.
Landscape Forms, located in Kalamazoo, Mich. at 431 Lawndale Ave., has been providing site furniture and accessories for more than 40 years. In addition to partnering with international companies, Landscape Forms maintains a strong product portfolio by utilizing leading edge technology, interesting design and integrating product collections. More information can be found about the company as well as the Escofet products they are offered by visiting their website.