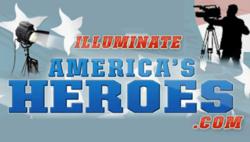 The campaign to illuminate their story will honor the four heroes of the Benghazi attack: Navy Seals, Tyrone Woods and Glen Doherty, Ambassador to Libya, J. Christopher Stevens, and Consulate Aid, Sean Smith
McLean, VA (PRWEB) November 05, 2012
David C. Jamison, Founding Board Member and Executive Director of the Foundation to Illuminate America's Heroes, announced today that "renowned Washington, DC media creator and producer, Rick Reed, who created the famously successful 'Swift Boat Veterans and POWs for Truth' media campaign in the Bush-Kerry 2004 Presidential race, is heading up the Foundation's National Media Campaign to Honor and Illuminate the Heroic True Story of the Four American Heroes of the Benghazi Terrorist Attack."
"This national media campaign to honor and illuminate the story of the four American heroes of the September 11th attack on the American Consulate in Benghazi, Libya, fits perfectly into the mission of the Foundation," Jamison said. "The campaign to illuminate their story will honor the four heroes of the Benghazi attack: Navy Seals, Tyrone Woods and Glen Doherty, Ambassador to Libya, J. Christopher Stevens, and Consulate Aid, Sean Smith through videos, radio and television and print media."
The Foundation is offering the opportunity to all patriotic American donors to participate in illuminating the inspiring story of these four American heroes through the tax-deductible, charitable Foundation which will enable their heroic story to be told to America and the world.
All patriotic Americans are urged to visit the Foundation's website at http://www.illuminateamericasheroes.com ; to donate generously to a fund to produce radio and television, social media, documentaries and film to illuminate these hero stories.
The Foundation is making a personal appeal to all patriotic Americans to virally spread the word of this this national Campaign to Honor and Illuminate the Heroic Story of the Four American Heroes of Benghazi through all social media; sharing a link to this press release with their best contacts and members of the media they know; and to email links to their Twitter accounts and on their Facebook pages.
For further information and/or questions about the Foundation and this Heroes of Benghazi Campaign, please contact David C. Jamison, Executive Director, at davidj (at) illuminateamericasheroes (dot) com or by calling (334) 718-9501.
Contact information:
David C. Jamison, Executive Director
The Foundation to Illuminate America's Heroes, Inc.
http://www.illuminateamericasheroes.com
davidj (at) illuminateamericasheroes (dot) com