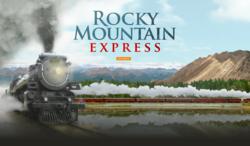 Richmond, VA (PRWEB) November 05, 2012
Join the epic adventure of building a nearly impossible transcontinental railway traveling through breathtaking vistas of the Canadian Rockies. Rocky Mountain Express rolls into the Science Museum of Virginia's IMAX®Dome Saturday, November 3.
Completion of the Canadian Pacific Railway in the Rockies in 1885 ranks among the greatest engineering feats in history. Retrace the original route aboard the majestic steam engine 2816 and revisit the age of steam to re-live this alpine nation-building odyssey. This legendary story is told through spectacular IMAX® aerial cinematography, breathtaking vistas of the West, archival images and maps and the potent energy and rhythms of a live steam locomotive to immerse audiences in a an era of remarkable ingenuity and struggle and a region of stunning natural beauty.
The Science Museum of Virginia is home to the largest movie screen in Virginia as well as hundreds of interactive exhibits for families. Tickets and showtimes can be found at http://www.smv.org or by calling 804.864.1400.
Rocky Mountain Express is directed by Stephen Low and produced by The Stephen Low Company/Age of Steam Film Company, Inc.
Rocky Mountain Express is presented locally by Dominion.
Science Museum of Virginia, 2500 West Broad Street, Richmond VA, 804.864.1400, http://www.smv.org.