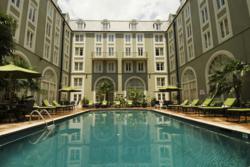 New Orleans, LA (PRWEB) November 06, 2012
The New Orleans Hotel Collection, a collection of seven celebrated hotels in America's favorite city – New Orleans – has announced a new and very special offer for travelers booking via the internet for "Cyber Monday" the Monday immediately following Black Friday.
For only 24 hours on Monday November 26th, the hotels of the Collection will be providing online bookable rooms for a selection of future dates that are far lower than any other online rates, and lower than what is usually available and represent savings of more than 40% on most dates.
Travelers who visit the New Orleans Collection website at: http://www.neworleanshotelcollection.com/cybermonday will be able to review the Collection's fine hotels, and select one to reserve for a future stay at these special rates.
Three of the top six TripAdvisor(R) rated hotels in New Orleans are among the New Orleans Hotel Collection properties. Hotels of the Collection reflect the unique feel and charm of New Orleans while providing a high level of personal service. All hotels offer valet parking, free Wi-Fi , free in- room bottled artesian well water, coffee and fitness and business centers to guests. Some offer free breakfast, a welcome drink, local phone calls and newspapers. Hotels are located in the French Quarter, the Arts District, and adjacent to Louis Armstrong International Airport.
About the New Orleans Hotel Collection
The New Orleans Hotel Collection is a group of seven fine hotels in the New Orleans metropolitan region owned by local investors. Comprised of the Bourbon Orleans, Dauphine Orleans, Hotel Mazarin, Wyndham Riverfront, Audubon Cottages, Crowne Plaza New Orleans Airport and Hotel Le Marais, these are boutique and small upscale meeting hotels in prime locations throughout the city. For more information, visit the New Orleans Hotel Collection website at http://www.neworleanshotelcollection.com.