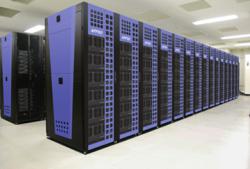 Milpitas, CA (PRWEB) November 05, 2012
Appro (http://www.appro.com), a leading provider of supercomputing solutions, announced today the availability and support of the Appro Xtreme-X™ Supercomputer based on the new AMD Opteron™ 6300 Series processors, codenamed "Abu Dhabi" to address high performance, value and consistency for scientific and technical challenges. Appro will be demonstrating its Xtreme-X™ Supercomputer based on AMD Opteron™ at SC12 in Salt Lake City, Utah - November 12-15, booth #2443.
The Appro Xtreme-X™, air-cooled solution is designed for medium to large HPC deployments and is ideal for scaling out datacenters to over 11,000 nodes, with nearly 300 racks offering over 25 PFlops of computing performance. The system supports two or four sockets based on the new AMD Opteron™ 6300 series processor featuring up to 16 cores, with support for all HPC CPU frequencies allowing customers to choose the right balance of clock speed and core count, perfectly matching their applications. Its upgrade provides improved performance, scalability and value over prior offerings. The system is deployed with the Appro HPC Software Stack combined with the powerful Appro Cluster Engine™ management software featuring critical monitoring and reporting that scales for all compute-intensive HPC workloads.
The new Appro Xtreme-X™ solution also provides significant savings in power consumption through the intelligent energy-efficient design of the processor and components. Some of its upgraded features are the use of Mixed Flow Fans for noise reduction versus previous generations, and optional 480 power distribution with a choice of 208 or 277 volt power supplies. Appro also offers two options for active and passive chilled Rear Door Heat Exchanger for additional data center energy savings.
"We are pleased to take advantage of today's newly launched AMD Opteron 6300 Series processors, foundation of the Appro Xtreme-X™ supercomputer to offer the ultimate balance between performance, scalability and cost effectiveness to help our customers to lower total cost of ownership," said John Lee, vice president of Advanced Technology Solutions Group at Appro.
"AMD and Appro are both committed to delivering leading HPC solutions to customers," said John Williams, vice president, Server Marketing and Business Development, AMD. "The AMD Opteron 6300 series processors are designed to deliver strong performance, excellent energy efficiency and great value for the evolving HPC market using the enhanced "Piledriver" core architecture coupled with optimized compilers and libraries. Using these processors, Appro is able to provide improvements in system performance-per-watt and enhanced memory bandwidth for critical HPC workloads."
About Appro
Appro is a leading developer of innovative supercomputing solutions. Appro is uniquely positioned to support High-Performance Computing (HPC) markets focusing on medium to large-scale deployments where lower total cost of ownership is essential. Appro accelerates technical applications and business results through outstanding price/performance, power efficient and fast time-to-market solutions based on the latest open standards technologies, innovative cluster tools and management software packaged with HPC professional services and support.
Appro supercomputing solutions enables scientists and engineers to use data-intensive, capacity, capability and hybrid computing for scientific research, data modeling, engineering simulations, and seismic visualization. Appro's headquarters is located in Milpitas, CA with offices in Korea, Japan and Houston, TX. To receive automatic Appro news and feature stories, subscribe to Appro RSS feeds at http://www.appro.com, also visit us on Facebook at http://www.facebook.com/ApproSupercomputers or interact with us at http://twitter.com/approhpc