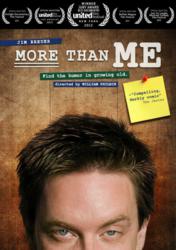 With festival buzz and public recognition from celebrities like Howard Stern and Rosie O'Donnell, More than Me is finally set to make its television debut.
Los Angeles, CA (PRWEB) November 05, 2012
"More Than Me", co-produced by Pilotfish Productions and Lazy Eyes Productions, chronicles Breuer's experiences as the primary caretaker of his 84-year-old father while on the road for a cross-country comedy tour. "I knew he needed to get out of the house … I knew this would give him so much life," Breuer says in the film referring to his father.
"More Than Me" director, Emmy® Award-winning William Philbin, who's also a partner at the popular sketch comedy group Daily Fiber Films, is no stranger to working with comedians. But it was his experience directing aging-related projects that made him uniquely qualified to strike the delicate balance between the film's comedic moments and its emotional core. "We were dealing with some complicated issues," Philbin said. "But when you boil it down, it's really a father-son story."
Shot in 2008, "More Than Me" has since made the rounds on the festival circuit, including a screening at the inaugural ArcLight Documentary Film Festival in Hollywood in 2011 and a Best Documentary award at the United Film Festival-New York earlier this year. "It's taken us four years to get to this point," said producer Zac Greenbaum, "so it's extremely gratifying to finally expose it to a larger audience."
The deal gives Current an exclusive 2-year license to broadcast the documentary to its 60 million U.S. households.
Jason Connell, of United Films, orchestrated the deal after spending several months searching for the film's TV home. "In the end, Current was the perfect fit. Their programming is always thought provoking and they appreciate the power of documentary film to educate and entertain at the same time."
"Our goal is to provide our viewers with unique content that matters," said Mike Bunnell, Current's Vice President of Programming. "The subject matter of 'More Than Me' – caring for aging family members – is something we all can relate to. And it's the very raw, funny, intimate way in which this story was captured that makes it special."
As part of a separate deal, "More Than Me" is expected to be released on iTunes in time for the holidays.
View the trailer: http://youtu.be/aVaQBSKHvfw?hd=1
Follow "More Than Me" on Facebook: https://www.facebook.com/morethanmemovie