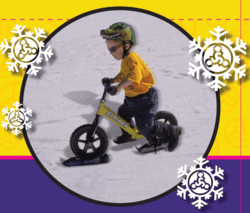 Holiday Introductory price of $31 through Dec. 25th, 2012
Rapid City, SD (PRWEB) November 06, 2012
Strider Sports International, the world's premier manufacturer and marketer of children's no-pedal balance bikes for toddlers learning to ride, is breaking new ground with the Snow Strider® Ski attachments. No longer will the STRIDER™ bike be relegated to the garage during the cold winter months — just strap on the Snow Strider Skis and take your STRIDER to the nearest ski slope, sledding hill or for an exciting snowflake-filled ride around the neighborhood.
The Snow Strider Ski attachments were designed and built to work seamlessly with any STRIDER ST balance bike.A simple strap mechanism will transform the STRIDER into a bike that is functional on snowy surfaces, giving Strider-loving kids a whole new way to enjoy their two-wheeled adventures.
The Snow Strider Skis promise to give toddlers an entirely new experience with the snow and will please parents with their safety features and quick assembly.

No tools required for assembly.
Snow Strider Skis retail for $39
Holiday Introductory price of $31 through Dec. 25th, 2012
Made from a lightweight, flexible plastic, the Snow Strider Skis are safe for all ages and durable enough to ride on rough winter terrains.
"The Snow Strider Skis are my new favorite Strider accessory," said Ryan McFarland, CEO of Strider Sports International. "From Slovakia to Japan to the ski slopes in the Black Hills, we've been putting them to use all across the world and the kids love them! They have replaced the usual sleds as the snow toys of choice and we know your children will enjoy them all winter long."
To see the STRIDER Snow Skis in action, visit http://www.StriderBikes.com/SnowStrider.
Note to Editors: Strider logos are available at http://www.StriderSports.com/media. High-resolution images of children riding STRIDER No-Pedal Balance Bikes can be requested by emailing: media(at)stridersports(dot)com.
About Strider Sports International, Inc.
Strider Sports International, Inc. designs efficient, no-pedal balance bikes that encourage Toddlers to ride, learn, and explore the world on two wheels. Founded in Rapid City, South Dakota in January 2007, Strider Sports is a company full of passionate riders of dirt, mountain, street, and road bikes. The goal of Strider Sports is to simplify a bike to its essence, so that proper size, light weight and ease-of-use combine to eliminate any fear of riding; instilling confidence in young new riders. The patented Strider™ No-Pedal Balance Bike is now distributed in over 35 countries. To learn more and to find Strider No-Pedal Balance Bikes in your area, visit http://www.StriderBikes.com.
About Strider™ No-Pedal Bikes
If your toddler can walk, your toddler can ride! STRIDER™ No-Pedal Balance Bikes were developed specifically to help toddlers and young children learn balance and coordination BEFORE pedaling. The simple, no-pedal design allows even the youngest children to learn to ride on two wheels, avoiding tricycle tip-overs and training wheel wobbles, and instilling considerable confidence and stellar bike handling skills sure to last a lifetime. STRIDER™ No-Pedal Balance Bikes encourage the development of spatial awareness, balance and basic motor skills so that all children can reach their maximum riding potential faster, better and safer. STRIDER Bikes are available at a variety of bike, motorcycle and toy retailers nationwide, and online at http://www.StriderBikes.com.