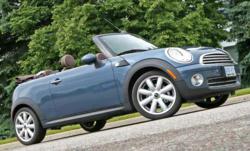 Driving along Miami Beach in a Mini Cooper Convertible or a Ferrari F430 Spyder adds a whole new layer of fun to an already great trip.
Miami, Florida (PRWEB) November 04, 2012
The Miami Book Fair International is scheduled for November 11-18 at Miami Dade College's Wolfson Campus in downtown Miami, and attendees heading to Miami for the annual event are reserving exotic, luxury, and sports cars through Prestige Luxury Car Rentals for the event.
Presented by the Florida Center for the Literary Arts (FCLA) and now in its 28th year, the Miami Book Fair International features six nights of readings and discussions with noted authors from the United States and around the world. More than 350 authors will be on hand at the Festival of Authors, a highlight of the accompanying Street Fair, to discuss their work, and more than 250 publishers and booksellers will exhibit and sell books with special features like the antiquarians, who showcase signed first editions, original manuscripts, and other collectibles.
Hundreds of thousands of readers and writers attend the fair each year, and thousands of South Florida school children will attend this year's event to hear authors and participate in Children's Alley activities, including theater, arts-and-crafts, storytelling and readings by children's book authors. Comics and graphic novels are a returning feature, with the school of comics on Friday and a new section just for kids and teens, as well as presentations over the weekend by renowned graphic novelists and illustrators.
Many attendees arriving in Miami plan to spend part of the week enjoying the international book fair and take side trips to some of South Florida's many attractions. Renting an exotic, luxury or sports car from Prestige Luxury Car Rentals makes their drive to and from different venues more enjoyable, and offers an opportunity to take full advantage of their South Florida holiday.
"Driving along Miami Beach in a Mini Cooper Convertible or a Ferrari F430 Spyder adds a whole new layer of fun to an already great trip," says Xylina Roman, Business Development Manager for Prestige Luxury Car Rentals. "The mild November weather in Miami makes it a perfect time to drive a convertible, and there's no reason not to make the most of it."
Travelers can reserve their dream car of choice in advance, and thanks to Prestige's convenient location neat the Miami International Airport, pick-up is fast and easy. Prestige also offers delivery services, so customers can hit the road and begin their Miami vacation without delay.
Prestige staff members are available from 8 am to 8 pm daily at the Miami showroom. For more information about Prestige's fleet of exotic luxury and sports cars, visit the Prestige Luxury Car Rentals website, follow the Prestige Facebook Page, or call 305.513.9711 (or toll free 1.888.513.9711).
About Prestige Luxury Car Rentals:
Since 2004, Prestige Luxury Car Rentals has been providing exotic luxury vehicles to customers seeking the ultimate car rental experience. Prestige's professional staff all share a genuine passion for the world's finest automobiles, and that passion translates to superior customer service with every rental. Making sure customers have fun and relish their dream car adventure is top priority.
In addition to its Miami base, Prestige Luxury Car Rentals has expanded its showroom locations to Orlando and Atlanta. The Orlando location services Northern and Central Florida, and the Atlanta branch services North Carolina, South Carolina, Tennessee and (with some limitations) New Orleans. All three locations offer a fleet of exotic luxury and sports cars including Aston Martin, Audi, Bentley, BMW, Cadillac, Corvette, Ferrari, Hummer, Jaguar, Lamborghini, Land Rover, Maserati, Mercedes Benz, Mini Cooper, Porsche and Rolls Royce.
###