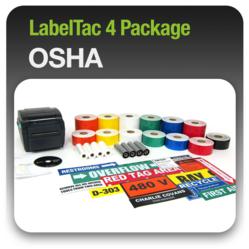 "The Labeltac 4 Package was everything we needed to start a safety program in our newly established business. We feel very comfortable in knowing we are in compliance with OSHA safety standards."
Lake Oswego, OR (PRWEB) November 07, 2012
Safety in the workplace is critical for any business owner and Labeltac.com is now offering a new product to help keep safety numbers up in the work environment. LabelTac 4 OSHA Package comes complete with everything that is needed to keep both workers and visitors aware of possible hazard zones. The package includes floor tape and sign tape in all the colors to comply with OSHA standards along with ribbon and the LabelTac 4 Printer that will print out easily and quickly all the signs and labels in house. A new business owner commented, "The Labeltac 4 Package was everything we needed to start a safety program in our newly established business. We feel very comfortable in knowing we are in compliance with OSHA safety standards."
OSHA safety signs are a great way to implement safety practices in the workplace. The safety signs help to reinforce the training that workers have received during safety workshops. With proper training of workers, costs are steadily reduced and productivity increases which in the end equals to more profit for the business. Safety signs are beneficial as reminders for streamlining necessary training for existing and new employees. By improving workplace safety through the use of OSHA safety signs will have a direct relation to the amount employers pay in workers compensation costs. In one study it was noted that occupational injuries make up 77 percent of workers compensation costs. By properly designating areas of potential hazards by use of OSHA safety signs is the first step to reducing unwanted accidents.
LabelTac.com offers numerous signs with different texts to help create safety in any work environment. Yellow Caution signs, Danger electrical signs, Falling Hazard signs to Warning signs are all available in English or Bilingual-Spanish. Custom signs are also provided for unique or one of a kind messages that may be required.
Please visit http://www.labeltac.com/labeltac-4/ or call toll-free (866)777-1360 to learn more about OSHA safety signs or other safety supplies.