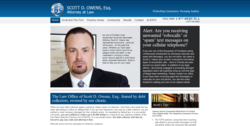 Anyone dealing with repeated calls from a debt collector who makes threats or misrepresents themselves as a law enforcement official or an attorney should contact a consumer protection attorney immediately.
SOUTH FLORIDA (PRWEB) November 05, 2012
Attorney Scott D. Owens of Hallandale Beach announced last week that aggressive and often illegal debt collection practices are on the rise in Florida and across the country. These findings came from a newly-released 2011 Federal Trade Commission (FTC) study that shows the FTC handled 180,928 complaints regarding debt collection agencies last year, making it the number one industry in terms of complaints filed according to the Los Angeles Times.
Roughly half of the complaints concern abusive phone calls, while other complaints involved illegal tactics undertaken by debt collectors.
Owens, a consumer attorney with a reputation for turning the tables on abusive debt collectors by helping clients sue their harassers, says the FTC study reports a 73 percent hike in reported debt collector abuses since 2008.
The studies are important to all consumers, Owens says, because debt collectors have stopped being particular about who they target in their collection tactics, resulting in a sharply rising number of people being mistaken for debtors.
"Once a debt collector has a name and contact information, it's nearly impossible to convince them that they have the wrong person," Owens says. "In a tough economy with high unemployment rates, business is booming for debt collectors, but that doesn't mean people have to put up with it."
Owens explained that debt collection calls made to people on their cellular telephones, either with an automatic telephone dialing system or by a pre-recorded voice message, have been found to be in violation of the Telephone Consumer Protection Act (TCPA). The touchstone of whether there is in fact a violation of the TCPA is prior express consent.
"If you never provided your cellular telephone number to the original creditor, it is highly doubtful that the debt collector has any consent to call your cellphone with an auto-dialer," Owens says.
Victims are entitled to minimum statutory damages of $500 per unlawful phone call. If the actions are determined to be intentional or willful, the damages increase up to $1,500 per call.
In addition to the TCPA, The Fair Debt Collection Practices Act (FDCPA) was put in place to protect consumers from the abuses of threatening, harassing, and intimidating debt collectors. It maintains a uniform code of conduct that debt collectors are required to adopt, and it provides information to the public about what debt collectors can and cannot say. Still, too many consumers fall prey to the aggressive caller.
Owens suggests that anyone dealing with repeated calls from a debt collector who makes threats or misrepresents themselves as a law enforcement official or an attorney should contact a consumer protection attorney immediately. The National Association of Consumer Advocates (NACA), a nationwide organization that specializes in consumer protection, offers resources on more than 1,000 attorneys who practice in the area of in consumer protection.
Owens provides legal help to consumers who have been victimized by debt collectors, advising them of their rights and, when necessary, filing suit in federal court. Individuals who reach out to Owens for legal help need not worry about attorney's fees or out-of-pocket expenses.
Owens says some common examples of debt collection violations that consumers should be aware of include:

Voice mail messages which fail to advise that the caller is a debt collector.
Threats to take actions not legally available to the debt collector, such as suing or even threatening to sue on a time-barred debt.
Requiring the consumer to defend a lawsuit in a county in which they do not reside or did not sign a contract.
Contacting your neighbors or family members and disclosing that you have a debt.
Failing to provide the consumer with certain statutory notices as required by the FDCPA within five days of the debt collector's initial communication.
A junk debt buyer or third party collection agency engaging in consumer debt collection activity in the State of Florida without having first registered with the Florida Office of Financial Regulation (Note: Florida consumers only).
Owens says the study's findings are important to consumers who need to be alerted to the rapid rise of abuses within the debt collection industry.
"Understanding their rights under the TCPA and FDCPA is the first step consumers need to take in ridding themselves of aggressive debt collectors, and possibly receive compensation for their trouble," Owens says.
For more information on the FTC study, or to find out more about protecting your rights from aggressive debt collectors, call the law offices of Scott D. Owens at 877.332.8352, or visit the website at http://www.ScottDOwens.com.
###