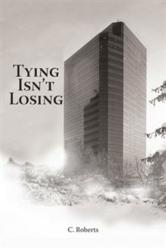 "Tying Isn't Losing" is a compilation of humorous anecdotes of how he was able to make the changes in his life
DETROIT (PRWEB) November 05, 2012
In his memoir "Tying Isn't Losing" (published by Abbott Press), author C. Roberts asks readers to join him as he takes a humorous look at the major beats of his life and the way he was able to transform himself.
Roberts was tired of mediocrity in his life. As he put it, he was at the pinnacle of mediocrity and that his career trajectory had "peaked at the cruising speed of a 1973 Pinto." He was able to achieve his major life goals after deciding to take charge, and "Tying Isn't Losing" is a compilation of humorous anecdotes of how he was able to make the changes in his life. Roberts provides an eye-opening glimpse into how one man seeking his true destiny learns to look inward first in order to realize his dreams.
An excerpt from "Tying Isn't Losing":
Like a light – one that flickers from a cheap lamp you have to shake a few times and hope it stays on – a transformation was beginning to take place. ('Ahh, man, he's a giant bug… kick his dumb ass out of here!') Working one day a week mowing grass (yes, I recognize how pathetic that is, but thanks for pointing it out), living with my parents, and really, what doesn't say 'winner' like closing in on twenty and living with parents? ('Hey, which one of you fine ladies is coming home with me? But you have to be quiet, because my parents, unlike me, have to work tomorrow … more champagne?')"
Roberts hopes readers find a connection with his use of humor. "I want it to be an easy read and hopefully they can identify with some of the subjects and get a smile from it," he says. "I also hope I don't come across as a victim or extra whiny; I wanted it to be a 'well, this sucks…guess I'll have a beer and then move on with my life.' I hope it comes across like that."
About the Author
C. Roberts is a middle-aged man who struggles with wanting to be a superhero, but is instead chained to beer and sports. He lives in the Midwest, where he enjoys playing the guitar and waits for a record label executive to ring his doorbell.
Abbott Press, a division of Writer's Digest – the oldest and most respected publisher devoted to the education and advancement of writers – is an indie-publishing imprint dedicated to helping writers bring their literary vision to print. Author Solutions, Inc., a leader in indie book publishing, will fulfill publishing, sales, and marketing services for Abbott Press. For more information, or to begin publishing a book today, log on to abbottpress.com or call 866-697-5310.