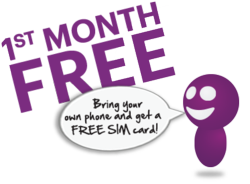 Bellevue, Washington (PRWEB) November 05, 2012
There's a new kid on the block when it comes to network providers and they are changing the landscape of mobile service – permanently. People may be wondering what Solavei is but at the end of this article everyone should understand why people are joining like crazy.
While they may not be a household name - yet – Solavei is a brand new cell phone company in the US and Puerto Rico offering completely unlimited text, 4G data (yes – 4G), and talk for only $49 a month. Backed by industry giants, not only is this an incredibly favorable economic solution, but members will also get world class reliability and efficiency when using their network. Tough to argue with this as the premier cell phone solution as is – but it gets even better. Members will actually be able to earn money just from using and recommending their cell phone service.
Cell phones have become extremely popular in modern times (it would be tough to ignore the fact that even grade school kids all have their own phones and data plans) but the simple fact is that this is a multi billion dollar industry. From the phone makers to the software writers to the people who install, maintain, and run the wireless networks that Americans leverage, there is a ton of money floating around in this industry. Isn't it about time the average person got a little piece of that pie? Solavei thinks so – and when members tap into the incredible amount of leverage that the Solavei network offers, people are doing just that. Who wouldn't be interested in joining the best cell phone company out there, a company with unlimited everything at just $49 a month?
Solavei is currently running a special promotion for new customers. If someone joins before November 30th, they will receive their first month free plus a free SIM card. That's a great incentive to give new potential customers a way to try out the service. Don't forget, there are no contracts or credit checks so people can give Solavei a try and cancel anytime without ever paying an ETF again. People can bring their own unlocked GSM phone (including Iphones) and port their old number to Solavei, they have it alll. Members will also never have to worry about paying for roaming again as that's free of charge, as well as free International texting. The list of benefits goes on and on and this article hasn't even really gotten into the fact that there is a really great compensation plan in place for sharing the Solavei service with others.
It is quite apparent that most people would be interested in learning more about how how to make money just from using and recommending a super cheap, very reliable, and industry backed unlimited everything cell phone plan. Solavei officially launched September 21st, 2012 and there are already over 50,000 paid users. Whether the masses are just looking for a cheap cell phone service with an unrivaled unlimited plan or they want to open up the possibility of another solid income stream (or both!), Solavei is a great solution to saving money or even making money.