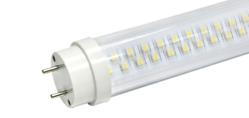 (PRWEB) November 15, 2012
Zhongtian Lighting announced the 36W T10 tube to replace 75W traditional fluorescent lamp. This remarkable product not only breakthrough the current technology barrier but also reflect the demand in lighting market, Zhongtina Lighting proofs it great powerful research and development ability in LED solutions again. All models are designed and built for consistent performance and high reliability and come with a three-year warranty.
The T10 light tubes are easy to install and are available in three white color temperatures, 3000k (cool white), 4000k (neutral white) and 6500k (warm white) and are sold in lengths of 2400mm. This 36W tube is available in 120º viewing angle and the lamp holder can be rotated. Engineered to last in excess of 50,000 hours, these sturdy aluminum tubes virtually eliminate maintenance hassles and replacement cost issues typically associated with fluorescents tubes. The 10 LED tubes also contain no lead, mercury or glass, making handling and disposal less of a concern, and also is RoHS approved.
Using 36 watts of power, the [ZT-S1024-55236A] LED tube from Zhongtian Lighting emits 3300-3500 lumens and obtains a color rendering index higher than 80, depending on whether consumers prefer a CCT of 3000K or 6000K. Furthermore, Zhongtian Lighting has optimized this product by giving it over current protection as well as reversed polarity protection, which makes it compatible with electronic transformers that don't have LED drivers. With driver efficiency greater than 90% and no UV, IR, or heat emissions, the high cost-to-performance ratio and low-power features of this product series makes it good for the environment. With a high CRI (color rendering index) of 80 and its slim design, the T10 tube is ideal for a variety of lighting applications, including back lighting, cove lighting, pop and display lighting and refrigeration/cooler lighting.
Zhongtian Lighting is engaged in enriching its production line and improving the quality of product not only in lifespan but also in its appearance. The innovation and R&D is the crucial point of Zhongtian Lighting. OEM and ODM service are also available. Other products such as LED bulb, LED down light, LED, LED high bay light are covered under its production line, and turning out Zhongtian Lighting is a comprehensive and specialized LED light manufacturer.
For more information about Zhongtian Lighting and its products, please visit http://www.ledlightshoping.com/category-28-b0.html.