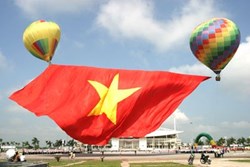 (PRWEB) November 06, 2012
Vietnamairfare.org provides cheap and secure flight tickets to Vietnam
Being one of the top online booking centers in Vietnam, Vietnamairfare.org provides domestic and international customers with cheap and secure flight tickets to Vietnam. Getting access to the webpage, customers can select to book a round trip, one way, or multiple destinations. The process is quite fast and easy; therefore, customers just spend no more than 2 minutes for a booking turn. To have more information around the trip, people can browse right on the website. Such necessary contents as fleet information, route map, fare types, travel documents, and baggage are always available for help.
With the purpose of offering customers with the cheap and highly-qualified services, Vietnamairfare.org has announced to launch a big discount on its domestic trips. Therefore, the website has been closer and closer to both domestic and international tourists. Being different from other websites, it always updates the latest information in the earliest time. Furthermore, getting access to the website, customers will be carefully directed with available details.
Especially, the website constantly updates Vietnam Airlines news, which is necessary to customers. At the present, Vietnam Airlines adjusts its operation to many countries in Europe, not only the United Kingdom as the before. It will operate a technical stop, depending on the date of operation. The time of technical stop will last 90 minutes or 120 minutes, depending on specific flights. Vietnam Airlines maintains a frequency of 4 flights per week from Vietnam to the UK as well as other destinations in Europe, and vice versa. It is noted that clients of Vietnam Airlines are free for luggage allowance from 13 agents. Customers can pay a visit to the website to get more details relating to cheap flight ticket and Vietnam Airline news.