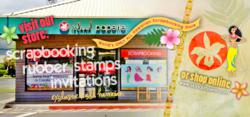 The company claims to be the world's only all Hawaiian and tropical scrapbooking, rubber stamping and event invitations store
Kahului, Hawaii (PRWEB) November 07, 2012
IslandPaperie.com is offering 50% off on all their one color laser cut and Hulahlah products making this the company's biggest sale in 12 years. According to Island Paperie representative, Alicia Hapai, the sale will stretch until the end of the year or while supplies are available to cater to consumers for this holiday shopping season helping them to save money and meeting their scrapbooking needs.
The company has a wide range of laser cuts consisting of laser cut images and laser cut words. These are all made from acid free paper which are designed and made in Hawaii. Customers will be able to identify with the Hawaiian theme laser cuts which are made specific to Hawaiian places, activities and popular Hawaiian words.
Consumers will also be pleased with the company's huge Hulahlah scrapbooking collection which is offered at 50% off since late October. Island Paperie recently decided to extend the sale period for this entire range of products until the end of the year or while stock are still available.
The Hulahlah range are all Hawaiian themed scrapbook materials consisting of greeting cards, laser cuts, local expressions, Asian laser cuts, pocket pleasers and pre-made pages.
Customers will be able to find all these products in the 'On Sale' category on the company's website. Scrapbookers who take advantage of the current sale to get their scrapbooking supplies will get to save half price off on top of receiving free goodies by the company for purchasing them online.
Although the Asian laser cuts are included in the Hulahlah range, customers will find them interesting as they offer both Chinese and Japanese related images.
Island Paperie has an extensive range of scrapbooking tools, supplies and materials. The company claims to be the world's only all Hawaiian and tropical scrapbooking, rubber stamping and event invitations store. Their online website is powered by InstanteStore, a web shopping cart software.
Customers will find their range of Hawaiian scrapbooking paper to be impressive with nearly 500 designs to choose from. The company also has an extensive range of custom tropical invitations for celebrations such as weddings, birthdays, baby showers and anniversaries.
Customers will receive a bonus free goodie for every purchase online.
For more information, please visit http://www.IslandPaperie.com or visit the physical store at 395 Dairy Road Unit A, Kahului, Maui, Hawaii 96732 which is open from Monday to Friday (10.00am – 5.00pm), Saturday (10.00am – 2.00pm), close on Sunday. The company can also be reached by phone (808-298-8515) or via email (aloha (at) islandpaperie (dot) com)