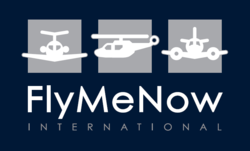 When FlyMeNow heard about Jamie and the need to get him and his family to Germany, we wanted to do whatever we could to help
(PRWEB UK) 6 November 2012
Brave Jamie has been battling a rare and aggressive childhood cancer since 3 1/2 years of age. Due to his weakened immune system, Jamie is vulnerable to infection and unable to travel on commercial flights. A private jet offered Jamie the best chance of travelling to Stuttgart for the pioneering stem cell treatment which could save his life.
The Yorkshire family's plight caught the eye of private aviation entrepreneur Andrew Whitney who moved quickly to find a solution that would safely deliver Jamie and his family to Stuttgart.
Andrew Whitney, FlyMeNow's commercial director, said: "When FlyMeNow heard about Jamie and the need to get him and his family to Germany, we wanted to do whatever we could to help".
FlyMeNow provided a chauffeured car to collect Jamie and his parents, John and Vicky, from their North Yorkshire home on Friday evening and arranged a charted private jet to Germany from Leeds Bradford International Airport through business jet provider E-Aviation.
"We will do so again if there is a chance to help. Jamie is such an inspiring boy - it was great to see him run out to the car which collected him and his parents, and he loved every minute of it.
"Jamie is from our backyard and there is hope and a light at the end of the tunnel for him, which is why we are just happy and proud to be able to help" said Andrew.
Jamie, who lives in Kelfield, near Selby in North Yorkshire has been given a stem cell transplant from his father to help him fight the cancer. Thanks to the private jet provided by FlyMeNow and E-Aviation, Jamie is currently undergoing his next stage of antibody treatment.
"We organise a lot of what you might call 'mercy missions', but this has definitely been our most important mission of the year" said Andrew.
Jamie's family are now working to raise the expected £250,000 cost of the treatment, which is not funded by the NHS, and is thought to offer Jamie's best chance of recovery. To find out more about the appeal, visit keepjamiesmiling.com, @JamiesAppeal and justgiving.com/jamiesappeal.
More information about FlyMeNow can be found at the company's web site http://www.FlyMeNow.com
ENDS: Notes for editors
For more information, contact Andrew Whitney at FlyMeNow International on +44(0)207 100 9000 or via email to theteam@flymenow.com.
Web Site: http://www.FlyMeNow.com
Facebook: https://www.facebook.com/FlyMeNow
Twitter: https://www.twitter.com/FlyMeNow
About FlyMeNow International:
Private air charter firm FlyMeNow International is based in the City of York. It also operates offices as far afield as Melbourne, Australia. FlyMeNow offers a full air charter service, including private jet hire, through their website at http://www.FlyMeNow.com.
Established in May 2007, FlyMeNow International completes hundreds of private charter flights each year. The firm's client base ranges from CEOs of global multinational corporations to private individuals attending events such as Royal Ascot and the British Grand Prix.
Their range of helicopters, private jets and turboprop aircraft suit all needs and tastes, with options including Eurocopter helicopters and Gulfstream, Learjet, Citation private jets.